There's no substitute for hands-on experience and hard-earned knowledge when it comes to finding success as a real estate investor. But a little book learning can help you approach investing with the right mindset and knowledge to give yourself a strong head start.
While there are endless books written about investing and business that can provide valuable insight, there are some prize publications that are must-reads for investors. We've compiled a list of some of our favorites, ranging from foundational books for those just getting started to incredible reads that will help you continue to hone your skills and inspire growth.
In no particular order, here are our picks for the essential books every investor needs on their shelf.
1. Think Your Way to Wealth by Napoleon Hill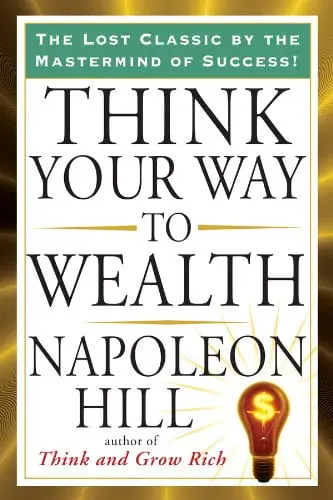 What It's About:
Think Your Way to Wealth captures Napoleon Hill's initial encounter with Andrew Carnegie, who revealed the money-attracting strategy that Hill later popularized in classic books like Think and Grow Rich and The Law of Success.
Why It Made The List:
An accounting of the conversation between Napoleon Hill and Andrew Carnegie, Think Your Way to Wealth shares the 17 principles Andrew Carnegie credited as the secret to his success. These timeless principles provide a blueprint of success strategies that still have the power to make a difference in the life of any reader.
Memorable Quote:
"My real wealth, that portion of it which I wish to donate for the good of mankind, consists of the principles of personal achievement which I am entrusting to you."
Our Favorite Review:
"What is contained in this book will give you a clear look into the two of the greatest minds in history. Those minds are, Napoleon Hill and Andrew Carnegie. Hill asked questions to Carnegie, which Carnegie gives Hill deep, thought-provoking answers that give you clear-cut answers. Carnegie tells you how to develop faith, how to take control of your own mind to attract the things you want in your life…There is so much information in this book that it is priceless and timeless."
Chris, Amazon Reviewer
2. Never Split the Difference: Negotiating As If Your Life Depended On It by Chris Voss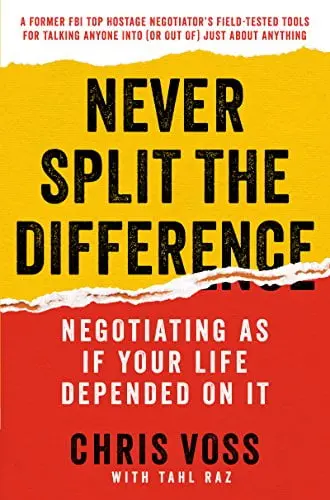 What It's About:
Never Split the Difference is a riveting, indispensable handbook of negotiation principles culled and perfected from Chris Voss's remarkable career as a hostage negotiator and later as an award-winning teacher in the world's most prestigious business schools.
Why It Made The List:
Life is a series of negotiations and that is especially true when it comes to real estate investing. Never Split The Difference is full of fascinating stories, but most importantly, it teaches you how to listen during negotiations, understand the other person's pain points, and employ tactical empathy to find the win-win in any situation.
Bonus: Listen to the fascinating interview with author Chris Voss on the BiggerPockets podcast.
Memorable Quote:
"​​Negotiation is not an act of battle; it's a process of discovery. The goal is to uncover as much information as possible."
Our Favorite Review:
"Far more than a business book, Never Split the Difference will transform all your relationships. It's now one of the top business books on my bookshelf–completely and utterly replacing Getting to Yes, which I recommended for decades…Chris Voss teaches simple, practical negotiating tools and methods you can instantly put to work with immediate results. He demonstrates them with fascinating, real-life stories that will help you understand remember the methods."
Kevin, Amazon Reviewer
3. How to Invest in Real Estate: The Ultimate Beginner's Guide to Getting Started by Josh Dorkin and Brandon Turner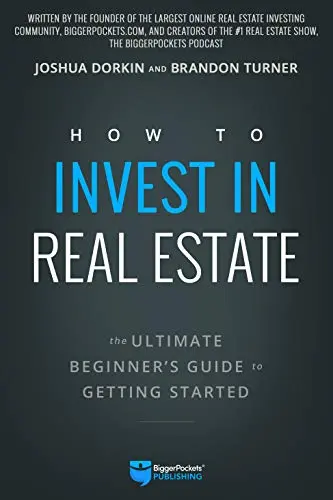 What It's About:
In How To Invest In Real Estate: The Ultimate Beginners Guide to Getting Started, BiggerPockets Founder Josh Dorkin and co-host of the BiggerPockets Podcast Brandon Turner lay out the many paths to start building wealth and financial freedom through real estate.
Why It Made The List:
If you're only just starting out on your real estate investing journey, How To Invest In Real Estate, should be one of your first steps. Taking a birdseye view of the many different niches and strategies that exist, the authors encourage you to learn, explore, and ultimately find the right investing path for you.
Memorable Quote:
"Remember the story of the tortoise and the hare? While many investors have 'sprinted' toward their investment goals, success is most often found by consistent action, not big action."
Our Favorite Review:
"My husband is an optimist and thinks we can do just about anything, while I'm a realist who wants to know exactly how that can be done. This book helped both of us on exactly how we could get into real estate the smart way. We have since bought a triplex for a rental property after reading this book and are now onto a single family home with extensive remodeling."
Trina, Amazon Reviewer
4. Atomic Habits by James Clear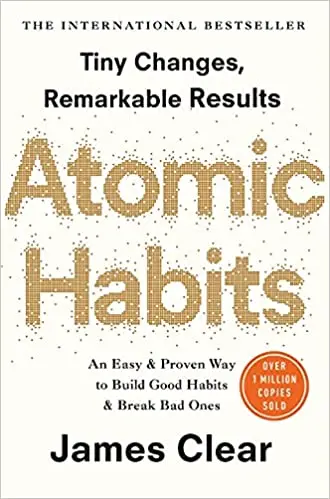 What It's About:
James Clear, one of the world's leading experts on habit formation, reveals practical strategies that will teach you exactly how to form good habits, break bad ones, and master the tiny behaviors that lead to remarkable results. This book aims to teach you how to make time for new habits (even when life gets crazy); overcome a lack of motivation and willpower; design your environment to make success easier; and get back on track when you fall off course.
Why It Made The List:
Every deal—whether a financial success or a setback—is an opportunity to learn and adapt. Successful investors know small wins to compound over time and they put new systems and processes in place as they go. No matter your goals, Atomic Habits offers a proven framework for improving—every day.
Memorable Quote:
"Goals are about the results you want to achieve. Systems are about the processes that lead to those results."
Our Favorite Review:
"Not only is the advice in the book practical, Clear explains the science and evidence behind the ideas. When reading a book like this, the real test for me is how often I think about it after I've finished the read; that's when I know it's made an impact on my thinking or behavior. I find myself thinking back on Atomic Habits daily; making connections to the material in my own life and work, and making changes accordingly. Must-read."
Natalie, Amazon Reviewer
5. Extreme Ownership by Jocko Willink and Leif Babin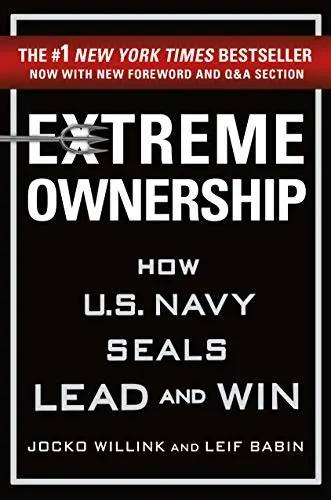 What It's About:
In the updated edition of the blockbuster bestselling leadership book, two U.S. Navy SEAL officers who led the most highly decorated special operations unit of the Iraq War demonstrate how to apply powerful leadership principles from the battlefield to business and life.
Why It Made The List:
This book is about embracing a mindset of discipline and ownership. When things don't go according to plan—and as every investor knows that's usually the norm, not the exception—you take ownership, you fix it, you make it right. And you do better next time. Applying an extreme inward focus will help you grow and improve in business and in life.
Memorable Quote:
"Implementing Extreme Ownership requires checking your ego and operating with a high degree of humility. Admitting mistakes, taking ownership, and developing a plan to overcome challenges are integral to any successful team."
Our Favorite Review:
"This book is a must-have for anyone, not just those in a leadership position. This book is a much-needed change in the culture of today, both in daily life and in the workforce: Take ownership of everything around you. Don't blame others. Don't blame your boss. Don't blame your employees. Don't blame the schedule. Don't blame the competition. Don't blame your CEO. Own it and change it."
Justin, Amazon Reviewer
6. The Millionaire Real Estate Investor by Gary Keller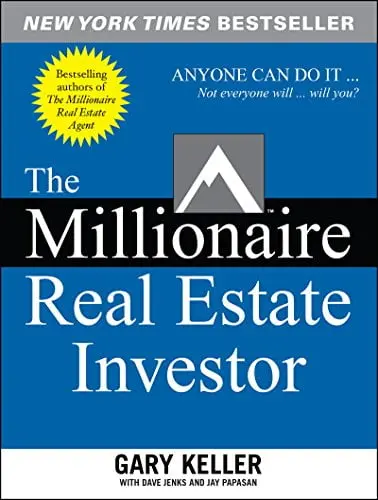 What It's About:
The Millionaire Real Estate Investor represents the collected wisdom and experience of over 100 millionaire investors from all walks of life who pursued financial wealth and achieved the life-changing freedom it delivers. This book—in straightforward, no-nonsense, easy-to-read style—reveals their proven strategies.
Why It Made The List:
The Millionaire Real Estate Investor provides a solid starting point for anyone looking to start their journey in real estate investing. Think of it as a handbook that aims to teach the myths about money and investing that hold people back; how to develop sound criteria for identifying great real estate investment opportunities; how to build your "dream team"; and more.
Memorable Quote:
"Deals aren't found. Opportunities are found. Deals are made."
Our Favorite Review:
"I would recommend this book to anyone interested in investing in real estate. It serves as a great foundational, mindset, and how-to book. It gives great examples and documents advice from top real estate investors. It will open your mind to new ideas and possibilities within the industry whether you are experienced or not."
Blake, Amazon Reviewer
7. The Book on Rental Property Investing by Brandon Turner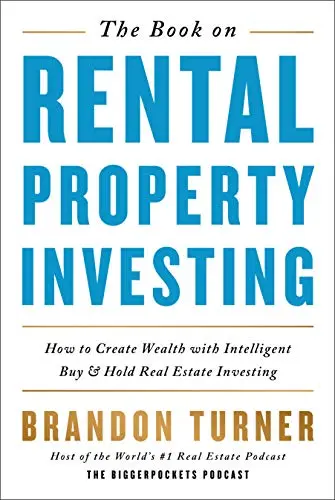 What It's About:
Brandon Turner—active real estate investor, best-selling author, and co-host of the BiggerPockets Podcast—breaks down the time-tested strategies he used to build his own wealth in real estate. Whether you are just getting started or already own hundreds of units, The Book on Rental Property Investing aims to show you how to create an achievable plan, find incredible deals, analyze properties, build a team, finance rentals, and more.
Why It Made The List:
Chock full of practical advice, The Book on Rental Property Investing is a must-read for investors eager to build their passive income-generating rental portfolio. Some of the topics covered include why many investors fail and how to make sure you don't; creative tips for finding deals (even in competitive markets); strategies for financing rentals; and advice on keeping your wealth by deferring (and eliminating) taxes.
Memorable Quote:
"Treat appreciation for what it is: a possible reward for an investment done right."
Our Favorite Review:
"This book is definitely at the top of my list for beginners in real estate. Brandon did a fantastic job with describing real estate and different strategies to take within real estate. He broke down how to calculate ARV's, how to add and subtract expenses, he explained the BRRR strategy in the most basic way, and he provided formulas and examples of breakdowns."
Ashley, Amazon Reviewer
8. The The Book on Estimating Rehab Costs by J Scott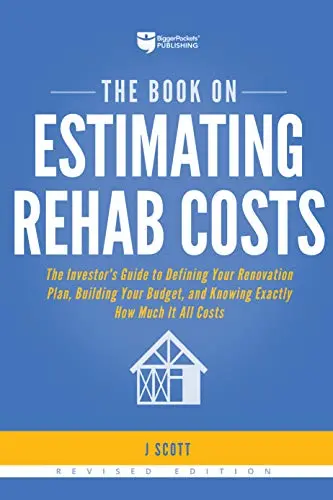 What It's About:
In The Book on Estimating Rehab Costs, expert real estate investor and fix-and-flipper J Scott reveals the tried-and-tested steps of his professional framework and his methodology for precisely evaluating renovation costs from hundreds of his own successful rehab projects.
Why It Made The List:
As author J Scott says, you don't need to be a contractor to flip houses, but you do need to know the fundamentals of budgeting and pricing your renovation―including everything from cosmetic renovations to complex installations and upgrades. This updated 2nd edition is a great resource for new investors who don't have the benefit of expertise in construction and rehab.
Memorable Quote:
"No matter what anyone might tell you or try to sell you, there is no magic formula for being able to determine what you should renovate on a particular house or how much the renovation will cost…I probably can't give you all the answers you seek, but I can tell you what questions you need to ask, to whom you need to direct these questions, and what to do with the information you receive."
Our Favorite Review:
"If you don't know about construction and contracting costs it can prepare you to ask intelligent questions when getting a quote, know what to expect, and empower you in unfamiliar territory. If you are familiar with various construction costs and related considerations, the systematic approach laid out by J Scott will help you "do your thing" in a repeatable and predictable way, which is the goal."
Bob, Amazon Reviewer
9. Grit by Angela Duckworth
What It's About:
In this New York Times bestseller, pioneering psychologist Angela Duckworth shows anyone striving to succeed—be it parents, students, educators, athletes, or business people—that the secret to outstanding achievement is not talent but a special blend of passion and persistence she calls "grit."
Why It Made The List:
Every real estate investor knows it's not called sweat equity for nothing. Real estate investing requires hard work and not a small amount of determination and persistence. Those who ultimately find success have usually have perseverance and grit to thank for it. Grit explores what it takes to become a high achiever and how it's grit, not talent or luck, that makes all the difference.
Memorable Quote:
"I have a feeling tomorrow will be better is different from I resolve to make tomorrow better."
Our Favorite Review:
"Excellent read for someone who wants to know more about what makes people "gritty" and how to become more gritty yourself. I especially liked her definition of hope. "Grit depends on a different kind of hope. It rests on the expectation that our own efforts can improve our future…The hope that gritty people have has nothing to do with luck and everything to do with getting up again."
Nancy, Amazon Reviewer
10. Rich Dad Poor Dad by Robert T. Kiyosaki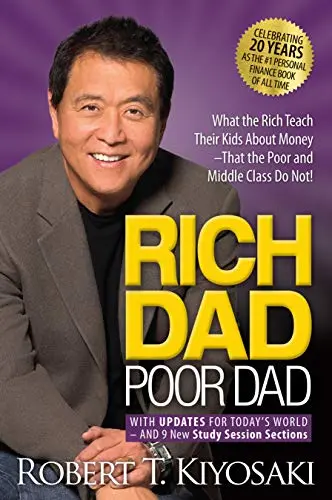 What It's About:
Rich Dad Poor Dad is Robert T. Kiyosaki's story of growing up with two dads — his real father and the father of his best friend, his rich dad — and the ways in which both men shaped his thoughts about money and investing. The book explodes the myth that you need to earn a high income to be rich and explains the difference between working for money and having your money work for you.
Why It Made The List:
No list of the best books for real estate investors would be complete without mention of Rich Dad Poor Dad. Along with Kiyosaki's other books, it has changed the way millions of people around the world think about their investments and money in general.
Memorable Quote:
"​​Winners are not afraid of losing. But losers are. Failure is part of the process of success. People who avoid failure also avoid success."
Our Favorite Review:
"I read this book about 11 years ago at 27 years old, had no money, I followed the advice in this book and now have 15 rental properties paid off free and clear, my assets more than cover all my expenses. I just bought this book again, I'm in the middle of reading it again now 11 years later, and can't put it down…People always ask me about success. I tell them to read this book…The book changed my life and it will change yours. Do you want to change or do you just want to talk and think about change? There is a big difference, do it."
ILive4Him24, Amazon Reviewer