Being a landlord comes with a lot of responsibilities and building wealth with those rental properties isn't as easy as some people think. You have to stay up to date on tenant/landlord laws.
You need to address repairs and maintenance whenever your tenants have a problem. You also have to know how to market your property so you can attract qualified, reliable renters.
On top of all of this, when your tenant moves out, you have to tackle the damages they may leave behind, whether it be normal wear and tear or outright property damage!
Of all the repairs you may need to make, replacing the flooring is a common issue. Normal wear and tear like faded or worn carpeting or scuffed hardwood floors are easy enough to repair; the carpet may need a deep clean or the floor needs to be buffed and restained.
However, if the carpet is covered in stains (pet stains are the most common) or there are deep scratches on the hardwood… Your best bet may be to replace the floors entirely.
In this guide, we're going to break down all the different types of flooring available, the pros and cons of using each flooring, and a price breakdown for each. Armed with this information, you'll be able to choose the best flooring for your rental property.
How to Choose the Best Flooring for a Rental Property
When you're trying to figure out what type of flooring to install in a rental, there are a few factors you need to keep in mind:
1. Neutral colors
In real estate, if you want to appeal to a large base of potential buyers (or, in your case tenants), keep it neutral. Not only does this mean the flooring should be a neutral color, but so should the paint colors throughout the house.
2. Pet-friendly
Pet stains are a big concern for landlords because there's the risk of needing to replace the subflooring if the pet's mess soaked through. If you intend on allowing pets in your rental, you'll want to install flooring durable and doesn't require much maintenance.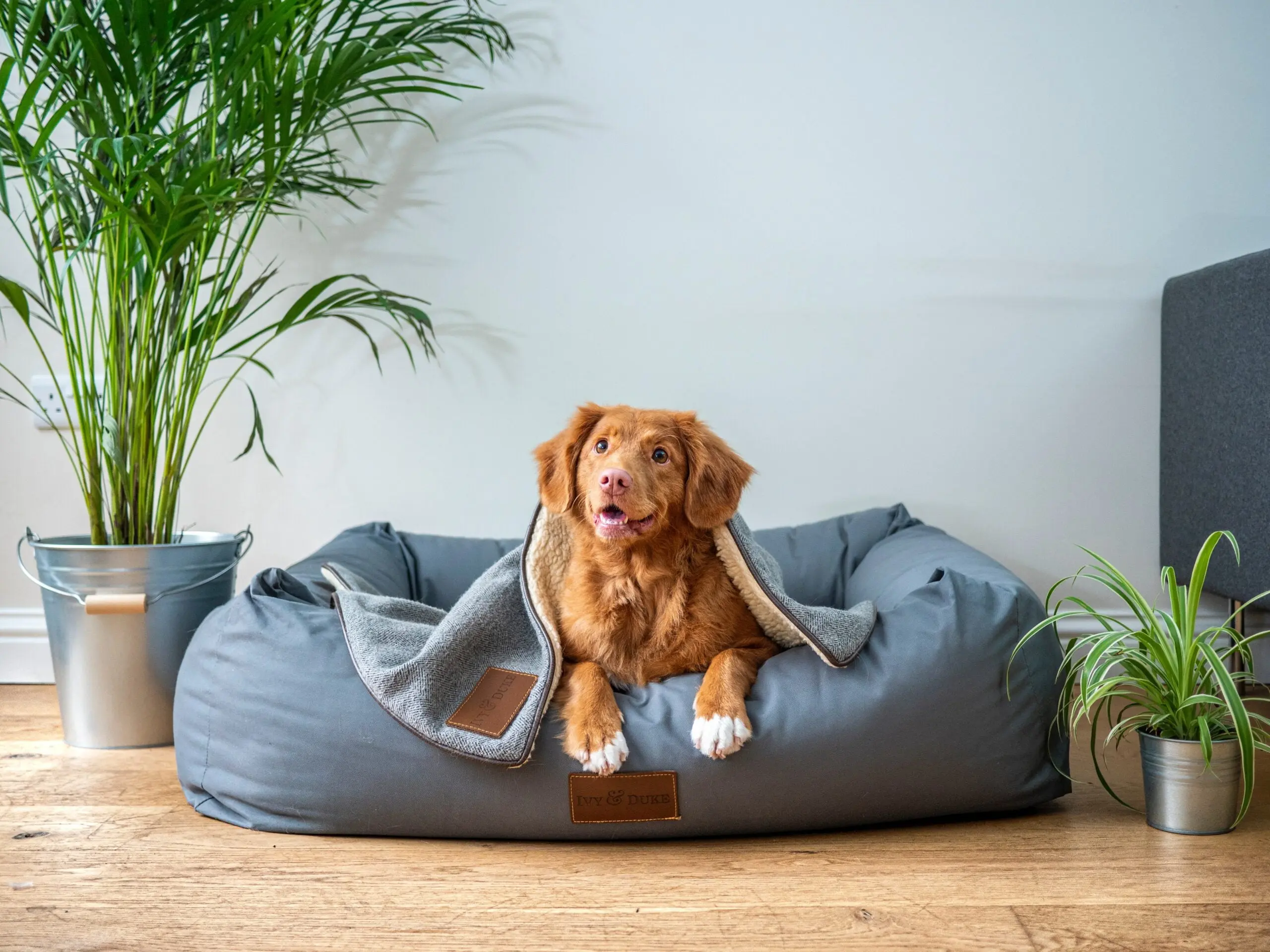 3. Rental price
Tenants that are going to be paying a lot in rent, they expect the property to be worth the money. High-end renters expect to have lovely hardwood floors, travertine tiles, and plush carpeting, whereas you can install moderate to low-end flooring in properties where the rent is on par with comparable units in the area.
4. Property location
The location of your property is going to be a big factor in what type of flooring your choose because the climate is going to affect the life of the flooring. For example, if you have a property where there's a lot of humidity like Seattle, Portland, or Miami, you'll want to install materials that can help reduce the risk of mold or musty odors.
5. Maintenance required
Ideally, landlords want to install flooring that doesn't require regular maintenance, such as the waxing, oiling, or buffing of hardwood. Even if you were to find tenants that are willing to take on the task of maintaining the hardwood, it's still going to require the removal of all furniture and waiting in between each process. Also, you should choose the flooring that will be easy to repair in between tenants without having to remove the entire floor.
6. Ease of installation
Installing flooring isn't a walk in the park, but some materials are going to be harder to install than others. You want to choose flooring that's easy to install because that means there will be less time in between vacancies.
What's the Best Flooring for a Rental Property?
There are a lot of flooring options that you can choose from, but not all are intended for the average rental property. Here's a look at the best rental-friendly flooring options.
Hardwood Flooring
Hardwood flooring is made from a solid piece of milled lumber. The most popular varieties include cherry, maple, oak, or walnut. However, bamboo, ash and mahogany are also excellent choices. If you're going for a high-end look, you could opt for exotic species like teak, jarrah, or mesquite.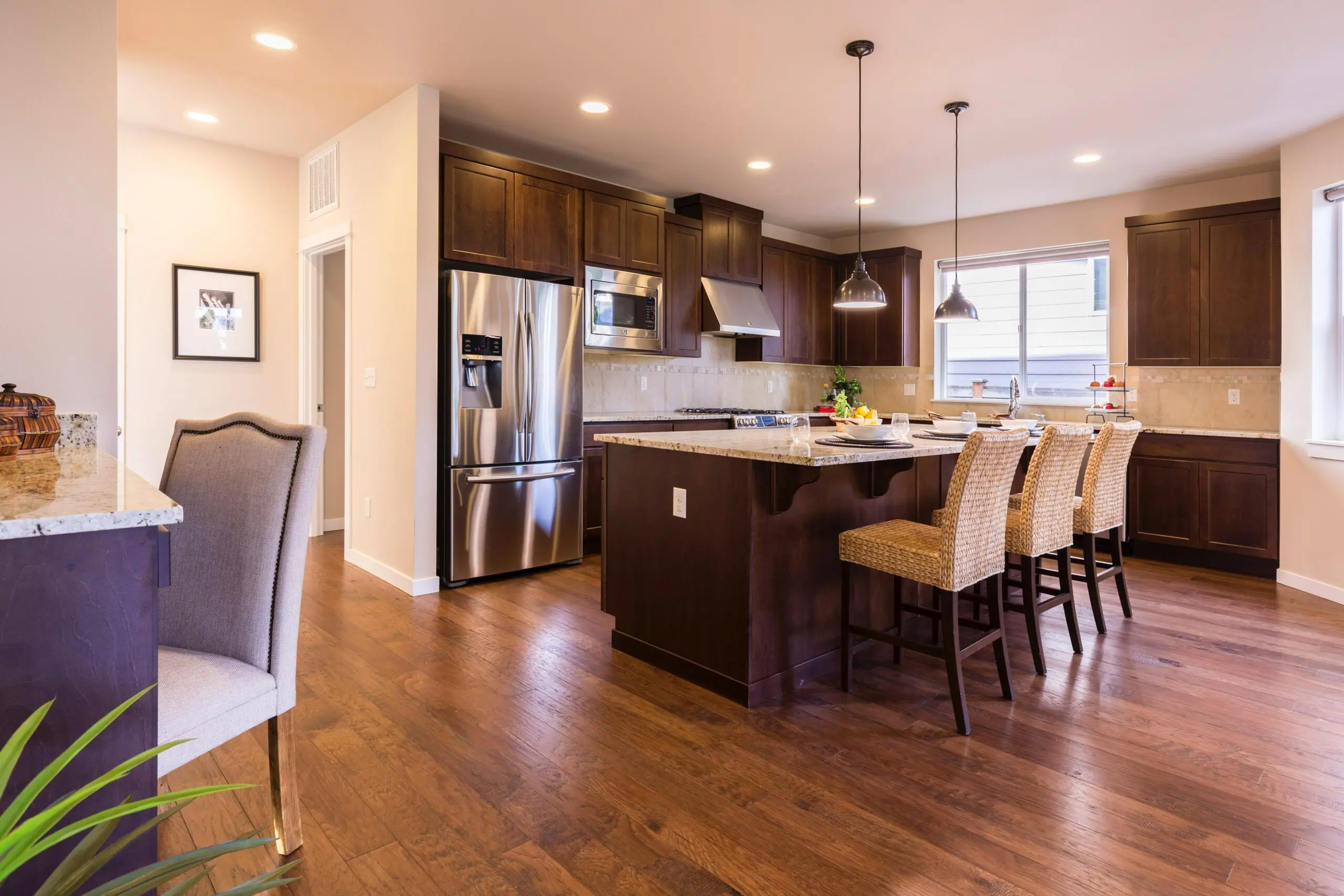 Cost per square foot: $5 to $10 per square foot
Pros
Increases the value of your home
Once it's installed, it can be refinished multiple times in between tenants
Many options to choose from
Very strong and durable
Cons
High upfront cost
Susceptible to moisture damage
Scratches, scrapes, and gouges are likely in high-traffic areas
Unsuitable for basements, bathrooms, and laundry rooms
Things to know:
Hardwood flooring is quite versatile and there are many options to suit every design style. It's recommended to do regular maintenance, which includes using a specialty hardwood floor cleaner at least once a month. It's also recommended to apply a fresh layer of finish at least every three to five years to keep them looking great.
Vinyl Flooring
Vinyl flooring is ideal for areas where there may be a lot of exposure to moisture, such as in a bathroom or laundry room, because of its water-resistant properties. You can find vinyl flooring in plank, tile, and sheet forms. For a higher-end look, you can opt for luxury vinyl plank (LVP) or luxury vinyl tile (LVT).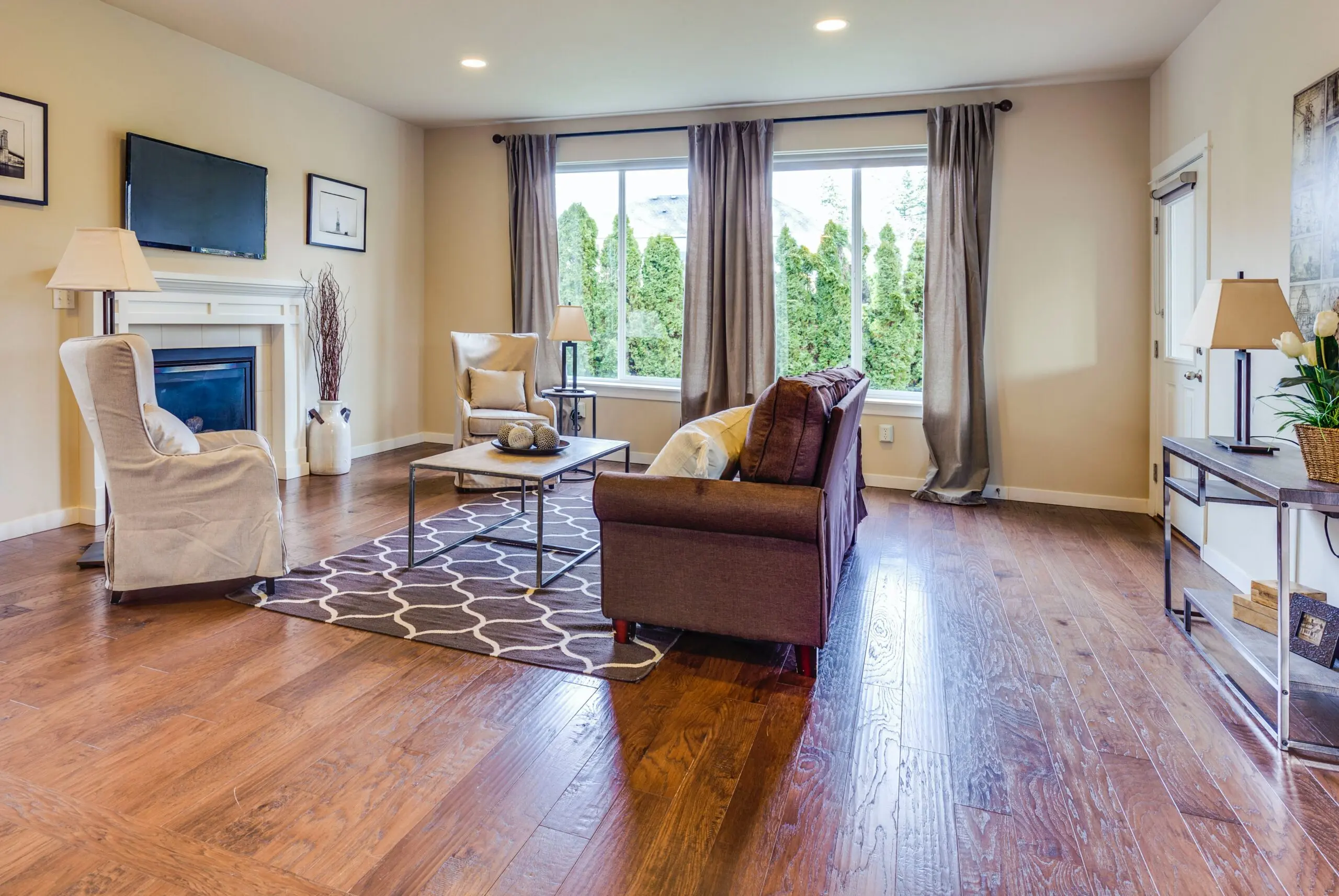 Cost per square foot: $1.50 (vinyl sheet) to $6+ (LVP and LVT) per square foot
Pros
Durable
Resistant to water damage and fading
Easy for DIY installation
Lots of design choices
Low maintenance
Cons
LVP and LVT are more expensive
Does not add as much value to your property as hardwood can
Things to know:
Vinyl flooring lasts a very long time – between 10 to 20 years. Because they are durable and water-resistant, they are great for properties near beaches, lakes, or in climates that are very humid. While vinyl sheets can give your rental that retro look (and not in a good way), there are many modern designs that are perfect for today's renters.
Tile Flooring
Tile flooring is a classic flooring material for bathrooms and kitchens because they are extremely durable and resistant to water and dirt. There are five main types of tile that you can choose from: ceramic, porcelain, marble, granite, and travertine.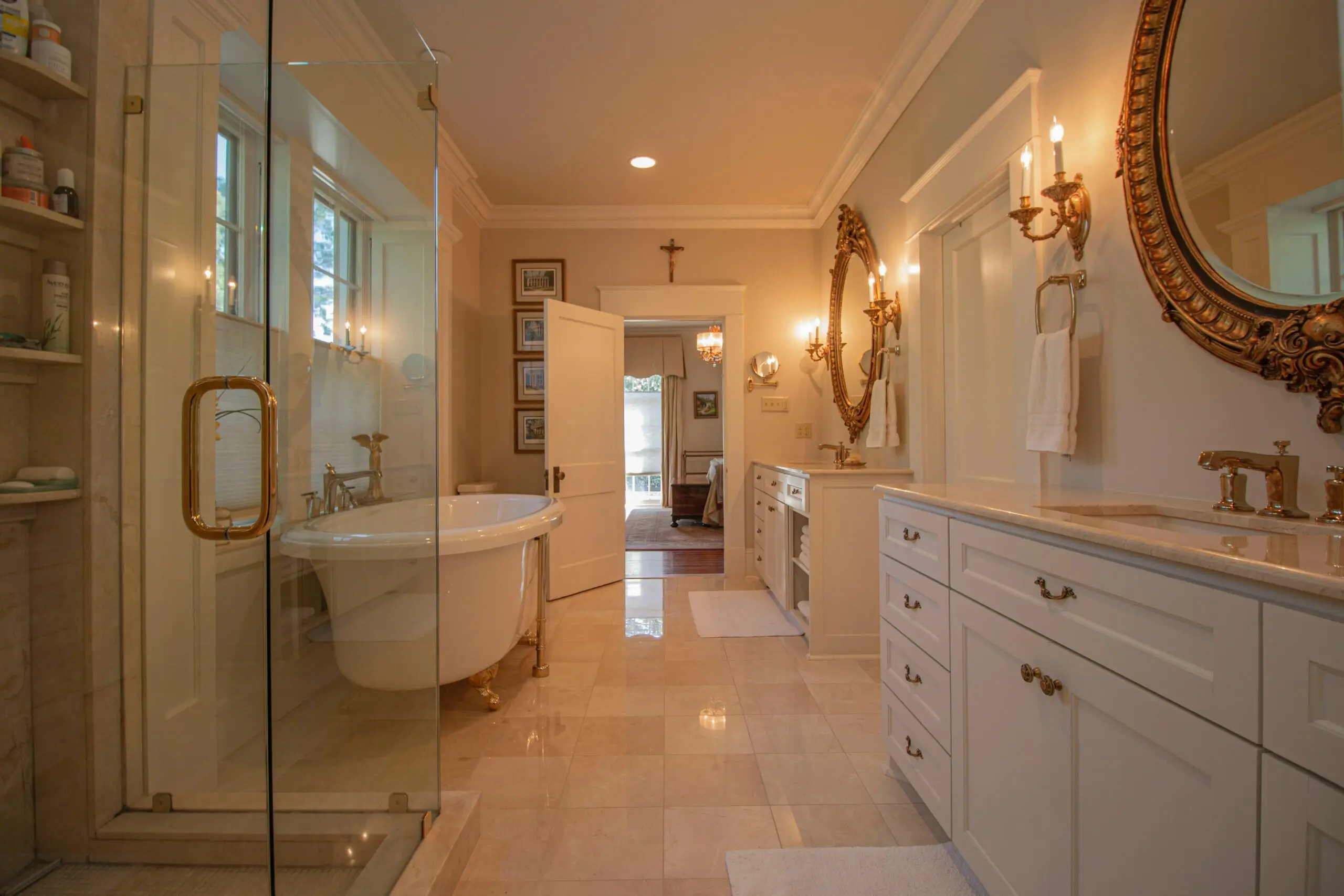 Note: Glass tiles are beautiful for backsplashes, shower stalls, and decorative touches, but not necessarily ideal to use on the floor.
Cost per square foot: $1 to $20 per square foot
Pros
Durable
Waterproof
Many designs, colors, and styles for a truly unique look
Long-lasting – 50+ years
Cons
Expensive
Difficult to install
Requires a lot of pre-work
Cold and slippery, which can be a safety hazard
Things to know:
Tile flooring can be expensive, especially if you opt for luxury tiles like marble, granite, and travertine. Depending on the square footage, a floor covered in tile may be too heavy for rooms or rental units on the upper floors. You will need to clean the grout every few years to remove any stains. It doesn't matter how clean the floor is, if the grout is stained, it will be a turn-off to potential renters.
Laminate Flooring
Laminate flooring is a great way to get the look of hardwood without the cost of hardwood. The boards are made from a particle board wood base. It achieves the look of wood (or tile) by layering a photo of wood or tile between the particleboard base and a clear protective layer on top. You can choose between laminate floor planks or laminate floor tiles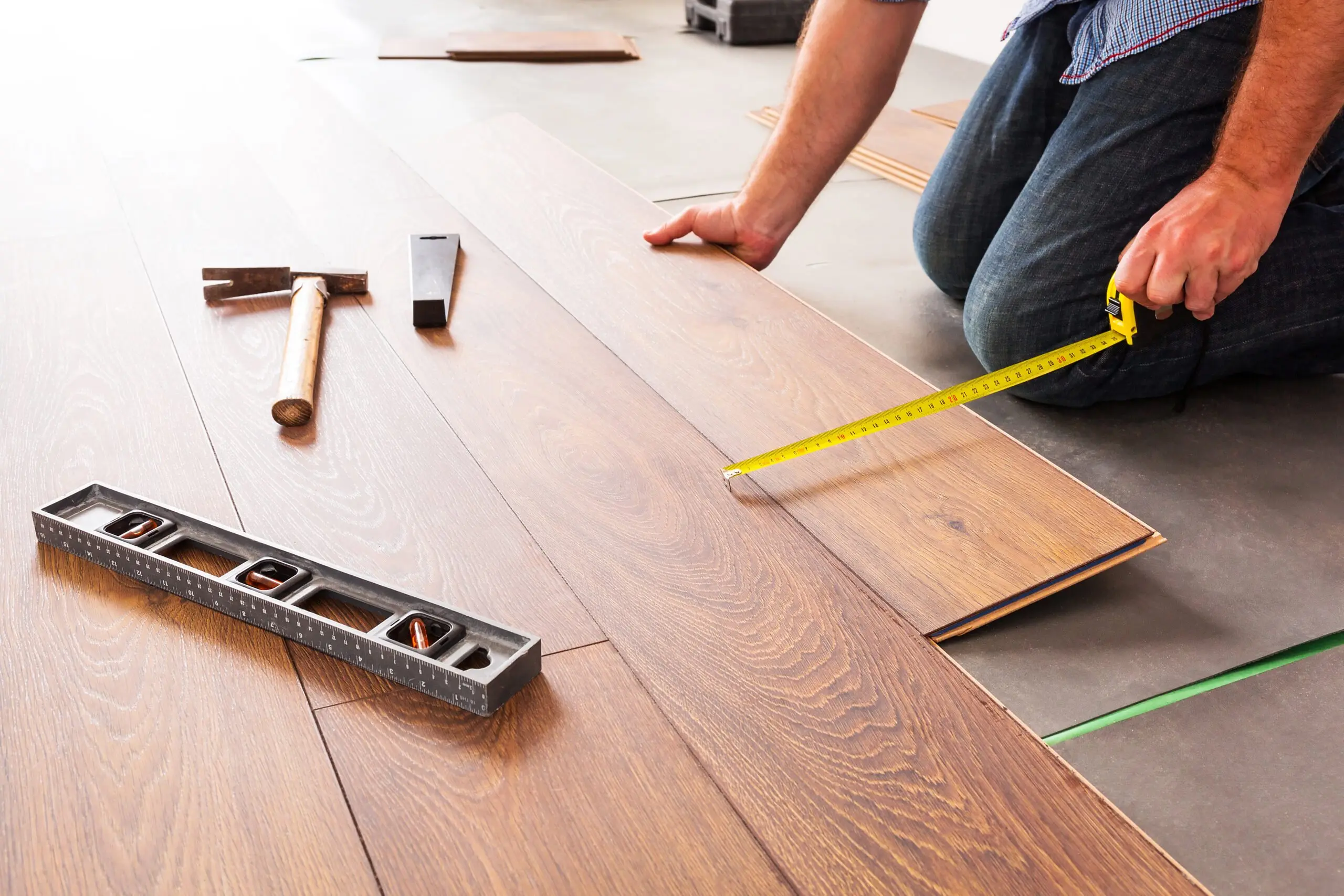 Cost per square foot: $3 to $7 per square foot
Pros
Inexpensive alternative to hardwood and tile
Easy to maintain and install
Scratch-resistant
Cons
Not water-resistant
Can chip easily
Doesn't have the same look or feel as wood
Sounds hollow when walking on it
Things to know:
When damaged, you cannot refurbish a plank like you could with hardwood – it will need to be replaced. Since it is prone to moisture damage, you're limited by where you can install it. However, you can protect your laminate flooring by using silicone caulk around the edges. It is not recommended to use any sealants on top of the laminate because there is nothing for the sealant to adhere to since the top layer of the board is non-porous.
Linoleum Flooring
Linoleum flooring is an eco-friendly flooring that's made from cork dust, wood flower, solidified linseed oil, pine rosin, and other substances. The design on linoleum goes through the whole product, which helps the longevity of this product.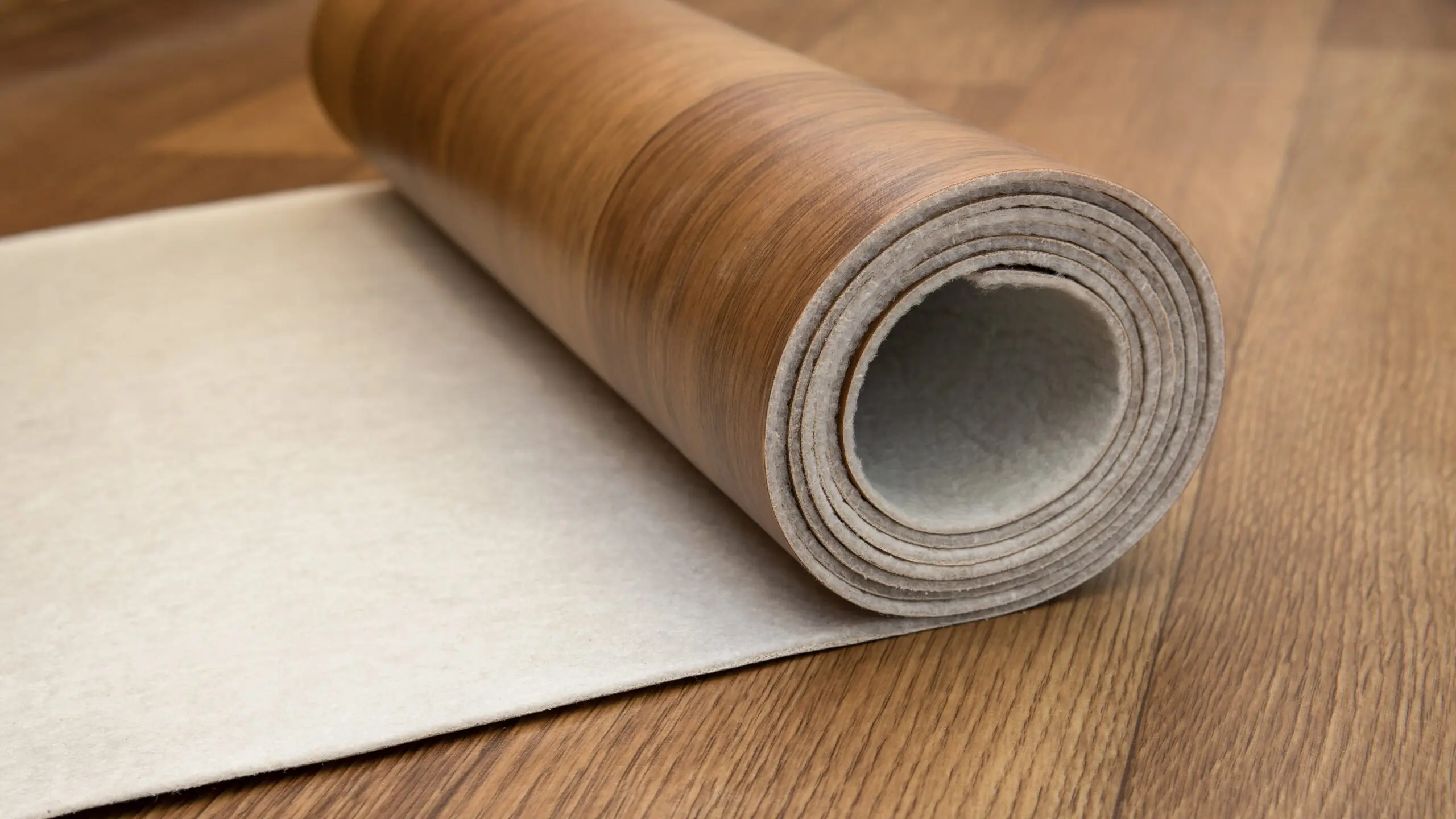 Cost per square foot: $4 to $8 per square foot
Pros
Inexpensive and eco-friendly
Easy to install
Requires very little maintenance
Wide variety of colors and styles
Lasts up to 40 years
Cons
Does not add to the property's value
Can dent or scratch easily
It may turn yellow or darken over time due to exposure to sunlight
Not recommended for moisture-prone areas
Things to know:
Linoleum and vinyl are often confused because they are very similar products. However, linoleum is biodegradable and eco-friendly, which may be a good option if you're aiming to be as eco-friendly as possible. Linoleum feels softer underfoot, thanks to the natural materials.
Carpet Flooring
There's a reason why carpet is so popular among homeowners. There are many different colors to choose from, as well as different textures and densities. When choosing a carpet, you're faced with two types of carpet construction: loop pile and cut pile.
Loop pile simply means the fibers are bent to create loops. Popular loop-style carpets include berber and multi-level loops. For cut pile carpets, you'll find varieties like plush, saxony, textured cut pile, frieze, and cable. Carpet is available in different fibers as well: nylon, olefin, acrylic, and wool.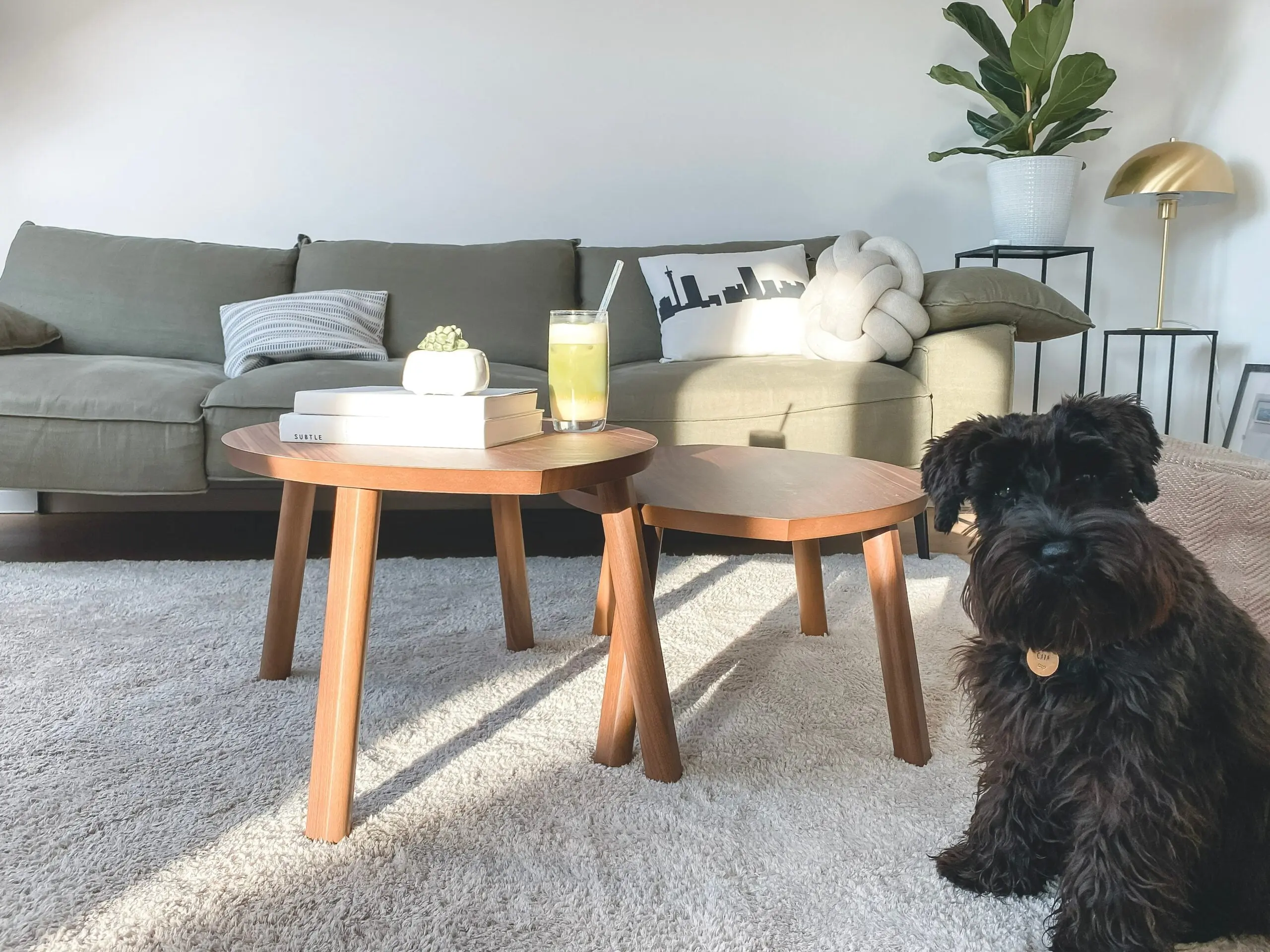 Cost per square foot: $2.5 to $10 per square foot
Pros
Comfortable to walk on
Adds visual warmth to the room, as well as maintains room temperature
Wide variety of colors, materials, and designs
Excellent for soundproofing
Stain-resistant carpets are available
Cons
Difficult to keep clean – requires regular shampooing
Stains easily
Shows traffic patterns
Unsuitable for allergy sufferers
Things to know:
It's recommended to replace a carpet every seven years because they are susceptible to staining and can hold odor. If it's damaged, you can patch it with a new piece of carpet, but it may not be a seamless match. You may consider carpet tiles for a rental because they are easier to repair than traditional carpeting.
FAQ About Choosing the Best Flooring for a Rental Property
Q: Is new flooring for a rental property tax deductible?
A: Installing flooring in your rental property is a capital expense that landlords must make. However, instead of deducting it from your taxes the year that it is installed, you can only claim its depreciated value.
IRS Publication 527 Residential Rental Property states that the value of permanent floorings like tile or hardwood depreciates over 27.5 years, whereas flooring that shows more wear and tear like carpeting can be depreciated over 5 years. What this means is that you can recover the cost of installing new flooring in a shorter period of time when installing a cheaper material.
Your tax professional will be able to help you with this come tax time. Just be sure to save all receipts and invoices related to this project!
Q: Should I invest in hardwood flooring for a rental?
A: Hardwood flooring may be a good investment if you have a high-end rental. While it is a durable option that can be refinished several times to make it look like new again, it requires a larger upfront cost, as well as regular maintenance to stay in good condition.
Q: What's the difference between linoleum vs vinyl vs laminate?
A: Linoleum, vinyl, and laminate are all composite-type floorings, but they are made from different materials and require different levels of maintenance/care.
Linoleum is made from organic materials and is more comfortable to walk on, but it isn't water-resistant unless it's properly sealed. It may be challenging to find products for linoleum because luxury vinyl products are preferred over linoleum.
Vinyl is very durable and waterproof. Since it's made from synthetic materials, it can be placed in moisture-prone areas without worry. These floors are user-friendly and can be a forgiving option for novice DIYers.
Laminate is a scratch-resistant flooring that is great for high-traffic areas or for homes where there may be pets or young children. Laminate flooring can give you a real wood look without the cost of actual hardwood. This material is thicker than linoleum and vinyl, which adds to its durability.
Q: What's the difference between LVT and LVP?
A: LVT and LVP are luxury vinyl products, but they are different types. LVT is vinyl flooring that's shaped to look like a tile, whereas LVP is vinyl flooring shaped to look like a wood plank. Both materials are waterproof but are also designed to withstand heavy foot traffic, scratches, spills, or other accidents.
Q: What is VCT?
A: When researching luxury vinyl flooring, you may have come across something called VCT, or Vinyle Composite Tile flooring. This type of flooring is made more from natural materials like limestone than plastic like luxury vinyl. That, unfortunately, means it is more porous and isn't ideal for areas prone to water exposure.
Q: What are the best types of flooring for each room?
A: The challenge of choosing the best flooring for a rental property is choosing the right type for each room:
Living room – Carpet, tile, laminate or hardwood.
Kitchen – LVT, LVP, or linoleum
Bedroom – Carpet, hardwood, or laminate
Bathroom – Tile, LVT, LVP, or linoleum
Mudroom/Laundry room – Tile, LVT, LVP, or linoleum
Q: Which flooring is the easiest to maintain?
A: In terms of what flooring is easiest to maintain, you are looking for a material that will be easy to repair without needing to rip up the entire floor. It also means how easy it is to clean and keep clean. With that in mind, tile, LVT, LVP, laminate, and linoleum are by far the easiest flooring options to maintain.
Q: Which flooring is the most affordable?
A: Affordable flooring can mean different things depending on your price point because you can find both affordable and high-end versions. It really depends on the cost of the material, the cost of installation, and the cost of routine care. The most affordable options for an average rental property would be carpet, vinyl, and ceramic tile.
Q: What's the difference between engineered hardwood and laminate?
A: Although engineered hardwood is similar to laminate, it's different in that it features a real wood veneer instead of a clear plastic coating. That solid layer of wood gives you the look and feel of a solid hardwood floor, but it absorbs noise much better than laminate or hardwood. Engineered hardwood is the perfect blend of hardwood and laminate with a price tag to match… It's cheaper than hardwood but more expensive than laminate.
Final thoughts about the best flooring for a rental property
When you're trying to decide which flooring is the best to install for your rental property, it really depends on your budget, the type of tenant you're hoping to rent to, and your location. But, you'll also need to think about whether you're going to install it yourself or if you're going to hire a contractor to do it for you. Labor costs can tack on several hundreds of dollars on top of the cost of the materials, which will need to be factored into your budget.
However, if you want affordable flooring that's easy to install, easy to maintain, and looks great, you can't go wrong with laminate, LVT and LVP in the high traffic areas and carpeting in the bedrooms.