As 2021 approaches, we're already seeing a shift toward colors that offer our senses a feeling of balance like a flow of soothing music made visible for the eyes to enjoy.
Understated yet clear in message, 2021's color forecast brings the natural world's perfection into the home with just a sprinkle of emotional decision-making driving nostalgia. When colors speak a buyer's language, you can sell a house faster, reducing holding costs, and increasing profits.
Here's what some of the top color experts are saying about the 2021 Color forecast.
Urbane Bronze
According to Sherwin Williams, Urbane Bronze will be the choice this year in 2021, perfectly conveying a natural, flowing, minimalist feel. It provides an alternative to plain gray or various hues of white.
It is a perfect contrast with the Scandanavian woods, deep leathers, and light metals often used in a modern minimalist style. They suggest you pair it with Modern Gray and Messenger Bag, two colors that both add contrast and fluidity.
Colors that Provide Comfort
For many, 2020 has been a year of spending way too much time at home. As a result, we're seeing a shift from cramped urban-living to suburban homes. Lifestyle changes brought out by COVID-19 are just one reason color experts believe we will continue to see colors from nature adorning the homes.
If we can't be out there, we bring nature and beautiful vacation destinations into our living spaces. Natural, flowing color provides comfort and a sense of safety so many seek right now and into 2021.
For this reason, Behr color experts believe comfort colors will rule in 2021. These include colors that feel as if they were plucked right out the sky, the forest, the grasslands, the desert, the ocean, or the mountains to grace the home.
Smoky white
Almond wisp
Canyon Dusk
Kalahari Sunset
Wishful Green
Voyage blue
Royal Orchard
Dayflower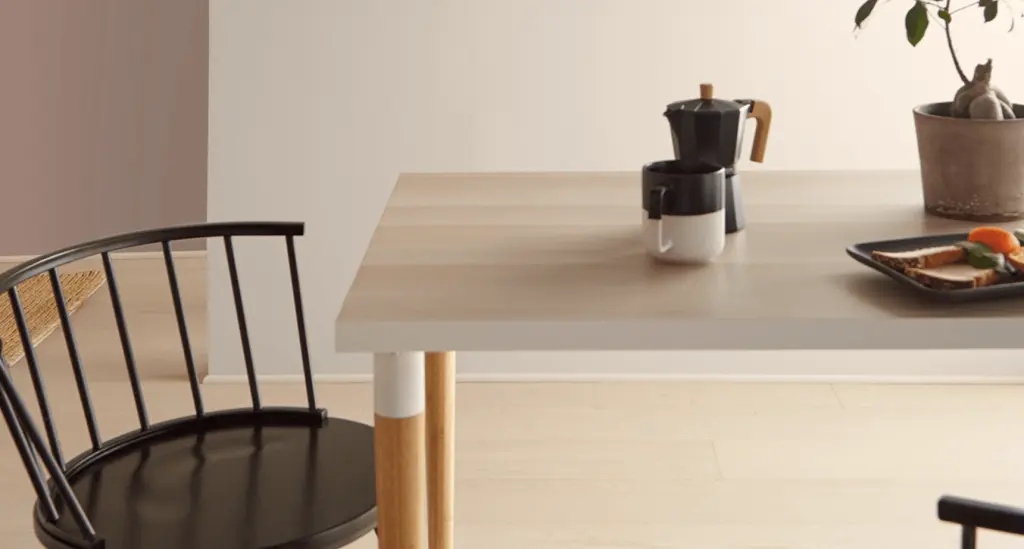 These colors also offer homeowners a sense of nostalgia. This influential emotion can lead to spontaneous decision-making, according to Krystine Batcho, Ph.D., who researches how nostalgia impacts how we make choices. Even a major decision like home-buying comes down to a choice.
Contrasting Complements
As the housing market rebounds from the late spring lull, the sophisticated designer may use contrasting complements to convey a message such as "you are safe here", "time for adventure", "this feels familiar", or "everything is harmony", whichever you feel speaks to your most likely homebuyers or renters.
To accomplish this, Sherwin Williams has released its Rhythm of Color collection just in time for the 2021 home selling season as part of their 2021 color forecast.
Sanctuary – a combination of 10 colors, of which you only need 2-3 to create an impactful expression of calm and safety. Expect to see contrasts like Bona Fide Beige with Canyon Clay.
Encounter – a more jubilant melody that contrasts calm yellows like Tarnished Trumpet with reds like Reddened Earth and greens like Rosemary. This collection leaves you feeling ready to explore, even if that's from the safety of your home computer.
Continuum – a collection that offers a sense of balance in the chaos and evokes a nostalgic mid-century feel with a stunning Commodore blue and Great Falls blue-green along with neutrals like Crushed Ice
Tapestry – a collection that takes us back even further, giving a modern interpretation of Victorian Era "maximism" with just a hint of 1980s and early 2000's flair using Jovial Pink, Perfect Periwinkle, Cape Verde gree, and Jaipur pink
Before the Paint and Pops of Color
Before you bring upcoming color trends to life, you need to find the perfect property to meet your investment goals. Our team connects you with high-potential properties that meet your specifications. We provide both on-market listings and off-market properties you won't find anywhere else.
Choosing the right color scheme can help you sell or rent your homes faster and earn more income, but it all starts with finding the right property. We provide opportunities delivered directly to your inbox. Put our team to work finding you homes with solid investment potential. Find out how to get started.