Did you know that real estate agent isnt the highest-paying real estate career? Although real estate agents have the potential to make a lot of money, there are plenty of other career opportunities within the industry where you can make just as much, if not more.
So What Are the 11 Highest Paying Careers in Real Estate?
If you're fascinated by real estate and want to make the big bucks, here's a look at the 11 highest-paying real estate careers, their job, and their estimated annual salary. This list will be arranged from the lowest-paying career to the highest.
Note: The estimated pay will depend on commission percentage, market conditions, years of experience, and your specific location. These estimates are based on the most recent figures published from the source material. Please do your own research into the earning potential of the career path you're interested in for your location.
1. Real Estate Agent/Broker
Estimated Pay: $48,340 annually/$62,010 annually
Real estate agents and brokers appear on this list because of their earning potential. While the median pay seems relatively low, you can make a pretty lovely income… Depending on the market, how many properties you sell, and the terms of your commission rate.
Some duties of a real estate agent/broker:
Network to find potential clients who want to buy, sell, or rent real estate
Advices clients about market conditions, prices, and other pertinent information
Promotes properties by posting ads online, in newspapers, hosting open houses, etc.
Negotiate terms of the purchase on behalf of the client and draws up a contract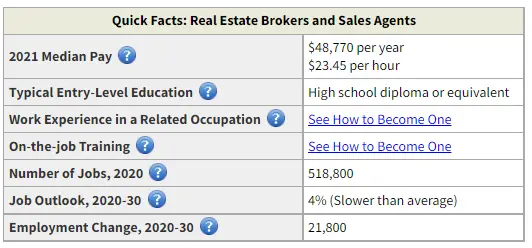 Credit: Bureau of Labor Statistics
2. Property Manager
Estimated Pay: $59,230 annually
Property managers are responsible for many aspects of caring for a rental property. They must ensure properties are in good condition, ensure curb appeal is on point, and preserve the property's resale value. Property managers can handle the financial records for income-producing commercial and residential properties.
Some duties of a property manager:
Meet with potential tenants and show properties
Review the lease and explain the rules and regulations
Inspect buildings and the grounds to make sure everything is in good repair
Prepare budgets and maintain detailed financial records for clients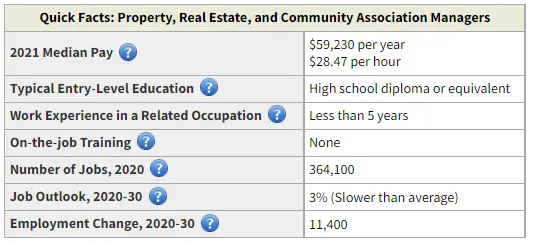 Credit: Bureau of Labor Statistics
3. Property Appraisers and Assessors
Estimated Pay: $61,340 annually
Appraisers and accessors are responsible for estimating the value of a property, be it commercial or residential. They typically go to the property before the buyer can get approved for a mortgage. The appraiser will run a comparative market analysis to determine the fair market value. They do not do a deep dive into the property's condition — that is what a home inspector does.
Some duties of a property appraiser and assessor:
Verify a property's legal description by looking a public records
Analyze comparable properties to help accurately value the property
Prepare reports detailing the method of valuation
Photograph real estate to include with the reports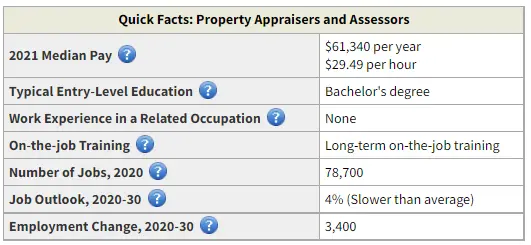 Credit: Bureau of Labor Statistics
4. Construction and Building Inspectors (Home Inspector)
Estimated Pay: $61,640 annually
A home inspector is responsible for ensuring the property is safe for occupancy it adheres to building codes and ordinances, zoning laws, etc. Home inspectors will examine single-family houses, condominiums, townhomes, and other dwellings.
Some duties for a home inspector:
Checks to ensure there aren't any cracks in the foundation, termite damage, or roofing issues
Identify code violations and make a note of it in the inspection report
Check plumbing, electrical, HVAC, and other systems work properly
Document findings and take photos of problem areas to present to buyers in a report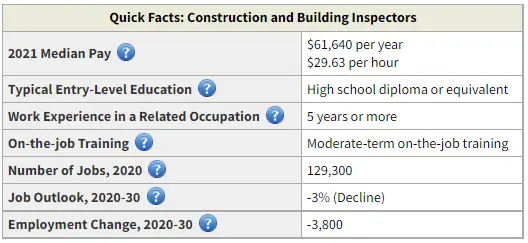 Credit: Bureau of Labor Statistics
5. Mortgage Loan Officer
Estimated Pay: $63,380 annually
Loan officers represent financial institutions that aim to help borrowers get financing. They have extensive banking industry knowledge and can answer borrowers' questions about the application process. A mortgage loan officer can work on both residential loans and business loans.
Some duties of a mortgage loan officer:
Reach out to businesses or individuals to see if they need a loan
Gather information to help applicants complete the application process
Explain the different types of loans and the terms of each
Review loan agreements to comply with state and federal regulations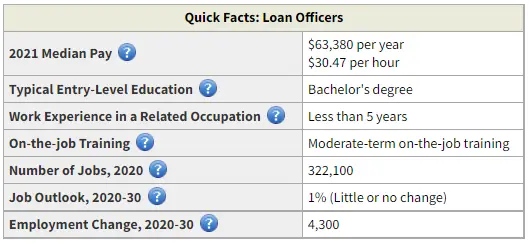 Credit: Bureau of Labor Statistics
6. Urban and Regional Planner (Real Estate Developers, Community Developers)
Estimated Pay: $78,500
Urban and regional planners are responsible for improving and revitalizing a community to meet the needs of the community. They oversee projects, enforce zoning regulations, and keep different groups of workers on the task at hand.
Some duties of an urban and regional planner:
Work with local government to develop plans about how the land will be used
Present projects to public officials, the local community, and investors
Stay on top of zoning laws, building codes, environmental regulations, etc.
Conduct field investigations that could affect the development of the proposed community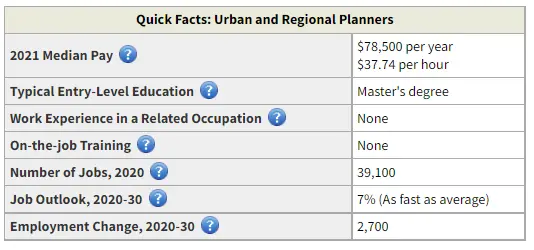 Credit: Bureau of Labor Statistics
7. Commercial Real Estate Agent
Estimated Pay: $104,041 annually
There's big money to be had as a commercial real estate agent. Instead of helping clients buy a new home, commercial real estate agents are in the business of helping companies acquire business properties. These properties range from office buildings, industrial complexes, retail spaces, multi-family, and medical buildings.
Some duties of a commercial real estate agent:
Cold call business owners to see if they'd like to buy/sell property
Provide market demographics, environmental research, and a detailed financial analysis
Researching and discussing maintenance costs, renovation costs, and networking
Negotiate contracts with business owners and buyers to secure a deal

Credit: Salary.com
8. Estate Manager
Estimated Pay: $111,003 annually
Estate managers are similar to property managers because they supervise the day-to-day operations of private estates. They oversee maintenance and repairs that need to be addressed around the estate grounds and buildings. They manage house staff and groundkeepers and special coordinate functions.
Some duties of an estate manager:
Meet with the estate owner to plan special events or discuss the state of the estate
Prepare and manage estate finances
Promote the estate's businesses through various marketing channels
Manage tasks like filing insurance claims, filing legal documents, invoices, and work orders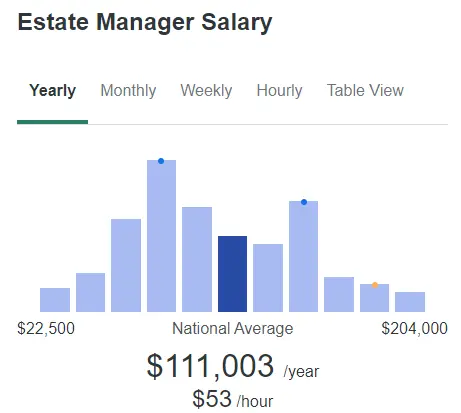 Credit: ZipRecruiter
9. Real Estate Investor
Estimated Pay: $119,731
Real estate investors buy and sell properties, but they also adjust the property's value. They collect rent and can even go so far as to lobby politicians and government agencies to realize a profit. You can work alone, but if you have the knowledge and experience, large firms may hire you to manage their entire property portfolio and ask for advice about property investment strategies.
Some duties of a real estate investor:
Locating potential property investments by researching and analyzing market trends
Negotiate prices to get the best prices for properties
Evaluate the financial status (expenses, income, etc.) of potential investments
Develop marketing plans to entice people to rent units or buy property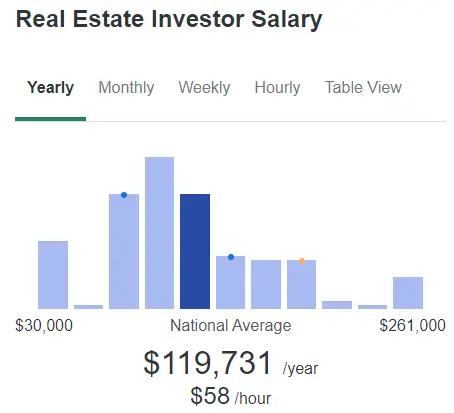 Credit: ZipRecruiter
10. Real Estate Attorney
Estimated Pay: $127,990 annually
Real estate attorneys are well versed in real estate law. They review real estate contracts to ensure the terms of the contract are legal and do not go against their client's best interest. Real estate attorneys can also help complete a transaction, or they can close the deal on their own.
Some duties of a real estate attorney:
Reviews purchase agreements and explains the terms to clients
Interpret real estate law regarding the purchase and selling of business and residential properties
Prepare legal documents like lawsuits, appeals, contracts, and deeds
Communicates with clients, the court, and others who are connected to a particular case

Credit: Bureau of Labor Statistics
11. Commercial Real Estate Executive
Estimated Pay: $313,186
Commercial real estate executives are similar to property managers but on a much larger scale. As a commercial real estate exec, you oversee and maintain the day-to-day operations of the premises while improving the overall curb appeal and value. They can oversee and train staff and groundkeepers, communicate with property owners about status changes, collect rent, and much more.
Some duties of a commercial real estate executive:
Provide tenants and landlords with leasing availability, market conditions, and property values
Assisting attorneys with real estate contracts like deeds, leases, and mortgages
Research and discuss property maintenance and renovation costs
Maintain accurate financial information to present to owners of the property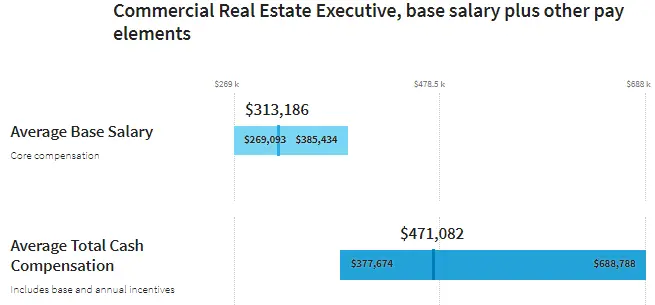 Credit: Salary.com
Looking Back at the Highest Paying Real Estate Careers
Real estate is one of those industries where you can make as much money as you want as long as you put in the work. You can take many different avenues to earn money in the real estate industry. Although real estate agents, brokers, and commission-based careers have an estimated low annual income, there's no limit to how much you can make under the right circumstances.
At the beginning of your career, you may not make the ranks as the agents on some of the top real estate television shows like Property Brothers, Selling Sunset, or Fixer Upper. However, when you're selling multimillion-dollar properties, working with celebrities, or focusing your career on the business side of real estate (not just buying and selling), you can make some great money.
You may feel like a small fish in a big pond at the very beginning of your real estate career. You'll need to get familiar with so many aspects of the industry just to get the basics down. If you're serious about leaping into a lucrative career in real estate, regardless of the career path you choose, trust that you're taking the right steps toward financial security with infinite growth potential. You're only limited by your own ambition!
New Western offers an excellent jump-start into real estate investing. Many of our most experienced agents and managers started their careers with nothing more than a willingness to learn and the drive to succeed.
Those are the two major requirements to join our team. Looking for a new career? We'll provide you with the tools, coaching, and resources needed to hit the ground running. Already licensed? Get ready for closings in days or weeks rather than months. We all come from different backgrounds and experiences, and we know those differences make our team that much stronger.
If this opportunity interests you – click here to learn more.