Flipping houses may make for great TV, but does it make for great financial reward in today's market? And if so, how many houses can you flip in a year?
This article will dive into the hot topic and arm you with insights and intelligence to make an informed decision on whether flipping is the path for you.
Flipping Defined – How It Works
First things first, let's define flipping. Sometimes called wholesale real estate investing, flipping is a real estate investment strategy in which an investor buys a property with the intent to sell it—not live in it—for a profit.
The goal is to buy low and sell high quickly in order to limit the amount of time your capital is at risk. Each day you hold on to a property costs you money in the form of a mortgage, utilities, insurance, taxes, and more.
Profit can come from a strong housing market where prices are rising quickly, or from improvements made to the property, or both. Many investors seek to make a living through a steady flow of income from frequent flips.
In order to limit risk and maximize return, consider the 70% rule. This states that an investor should not pay more than 70% of the after-repair value (ARV) of a home minus repairs needed. ARV is what a house is worth after renovation.
An example: if a home's ARV is $150,000 and it needs $25,000 in repairs, an investor should pay no more than $80,000 ($150,000 x .70 = $105,000 – $25,000 = $80,000).
Flipping – By the Numbers
Fueled by stand-alone networks like HGTV, DIY, and Chip and Joanna's Magnolia brand, the business of home and flipping has historically been a big one in this country.
In the mid-2000s, flips represented nearly 9% of all home sales. In more recent years, the rate has fluctuated closer to 5%. The latest data from ATTOM shows that these transactions only represented about 2.7% of all home sales in the first quarter of 2021, the lowest level since 2000.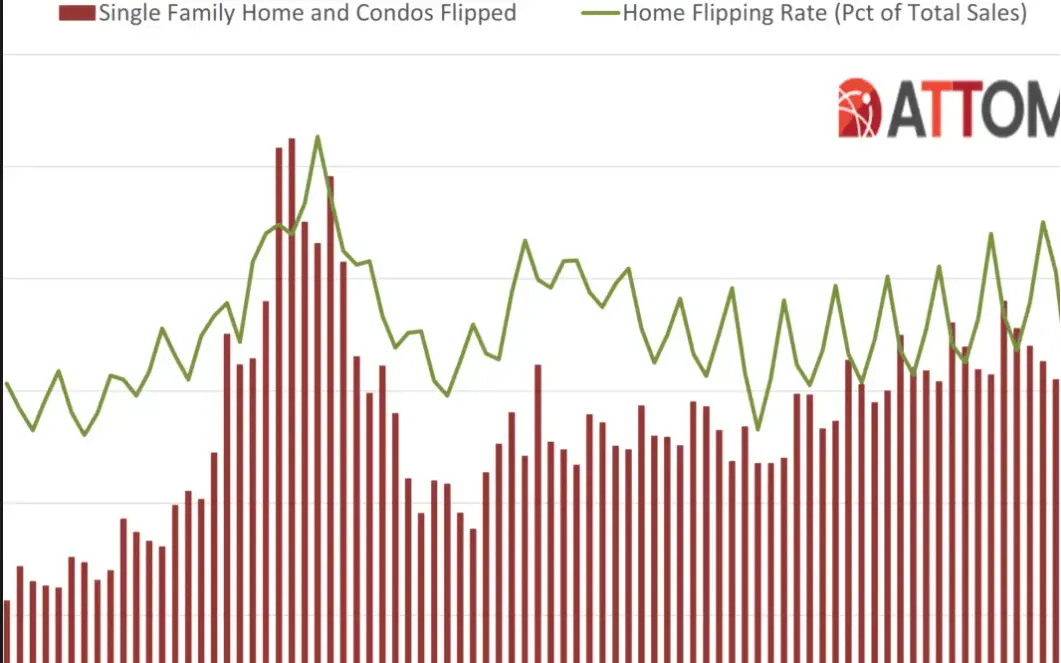 Hot Markets
This past year has been anything but typical, so it's not surprising that the markets experiencing the biggest quarterly increases in flipping are not the usual suspects.
These include Springfield, MO (+120%); Provo, UT (+118%); Omaha, NE (+101%); Lynchburg, VA (+101%) and Pittsburgh, PA (+88%).
Remote work may be one factor influencing some of these increases as many companies continue to allow employees to work from home post-pandemic.
Investors sold home flips for at least double the purchase price in five markets: Pittsburg, PA; Springfield, IL; Chattanooga, TN; Philadelphia, PA; and Fayetteville, NC. The highest raw profits were concentrated in the West, Northeast, and South.
Is Flipping Houses Profitable? Average Profit Per Flip
Homes flipped in the first quarter were sold for a median price of $231,500, up from $222,0000 a year ago. The gross profit on a typical flip is $63,500 for a 37.8% return on investment.
However, this figure simply represents the buy price minus the sales price. It does not factor in all of the expenses involved from renovation to other costs like utilities, HOAs, financing, and selling.
Breaking it down further, real estate agency owner Mark Ferguson estimates the true profit for a $200,000 house closer to $36,000.
Profit on a $200,000 House

Purchase price: $200,000

Repairs: $40,000

Carrying costs: $4,000

Financing costs: $8,000

Selling costs: $12,000

Sell for $300,000

Profit: $36,000
And last but not least, investors need to account for capital gains taxes which will chip away at profits.
How Long Does it Take to Flip a House
Once again based on the latest data from ATTOM, flippers who sold homes in the first quarter of this year took an average of 159 days to complete the transactions.
Amateur investors who flip houses as a side-hustle will usually flip around one to two homes per year.
Assuming a home has $40,000 in repairs, this roughly equates to 2000 man-hours of $10 per hour labor. Crunching the numbers, an individual with 2000 hours flipping also has 2000 hours at his or her day job. Get ready for an 80-hour week.
In addition to the time needed to get the work done, you also need to factor in time for inspections and time to sell the property.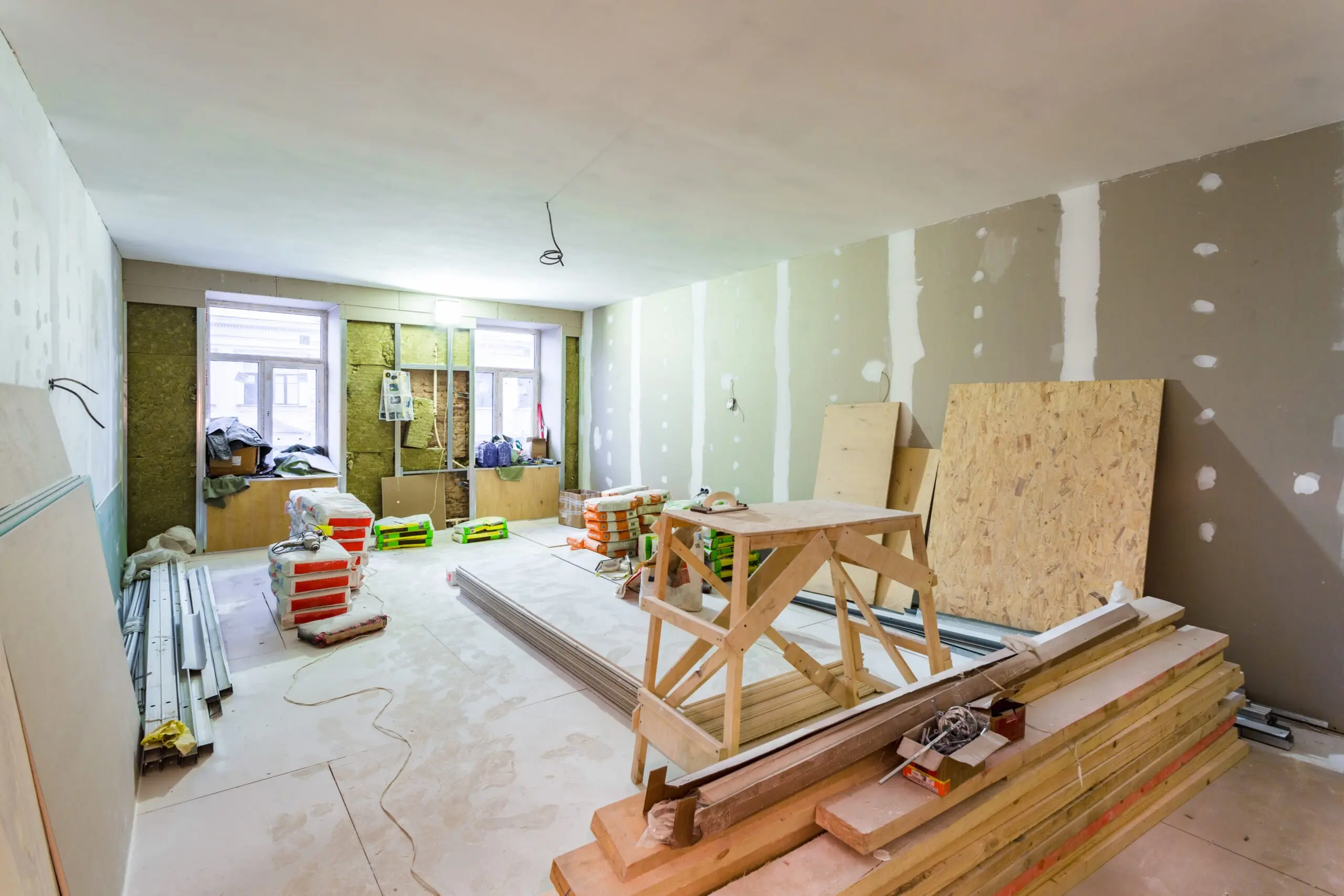 How Many Houses Can You Flip in a Year?
Moving up a notch from the one- to two-house per-year flippers are investors with some financing who have cultivated crews and systems. Still managing projects on site, these individuals might do three to six deals a year.
Professional investors, on the other hand, do anywhere from 12 to 50 deals. These pros have a complete arsenal of support including crews, teams, financing, offices, etc.
This is a full-time investor with full-time professional staff and millions of dollars in capital. "The difference between successful and unsuccessful flippers is treating it like a full-time job and not a hobby," believes one top-selling agent in Delaware.
Real-estate agent and investor Mark Ferguson's average profit is $25,000 per deal as he has added costs of a support team and marketing.
All of this considered, this pro says he flipped 26 houses in each of the last two years. Working with that math, some might ask why not flip 40 houses a year to make $1 million?
His answer: "Truthfully, it is really hard to flip 26 houses. It is hard to find deals on homes, to finance them, and to repair them. In fact, you might be better off flipping fewer houses, rather than have houses sitting around waiting for contractors to free up."
Large organizations with hundreds of employees in multiple cities make up the final, super-investor category. This segment may do anywhere from 100 to 1000 deals per year.

Another approach is to flip higher-dollar homes: this means higher risk and higher reward. There are some investors who may make $1 million on just one deal, but it may take longer than a year to complete the project.
These investors also have a great deal more exposure and carrying costs. Premium properties also have the potential to see the biggest price drops, which will eat into your profit.
The Flip Factors
There are a number of factors that potential investors need to be aware of before jumping into the business. Let's take a look.
1. Capital
To get into this business, you need access to cash. But, it's often difficult to pull together capital when you're just getting started or if your money is tied up in another property.
There are a variety of lenders out there who will lend based on collateral, not credit scores. Faster and easier to acquire with low down payments, hard money loans allow investors to fund up to 90% of the investment property based on its ARV.
These loans do however come with higher interest rates than standard loans.
If you use most of your capital in one flip, you will most likely need to wait until it sells before you can flip again. Amateur flippers who flip in a linear manner like this will likely max out at three to four houses a year.
Those with more access to capital who can flip multiple properties at the same time can complete five to eight flips per year.
In addition to the money needed for a flip, it's important to have capital in reserve for the curveballs that this business often throws.
"We once helped a client that does about 50 flips a year as a full-time job get a really good deal on a foreclosure property," noted one top agent. "He found more issues than expected during the renovations, so his costs far exceeded his budget. The property did eventually sell, but he ended up only making a 2% return on that house when he'd expected to make 20%. It was a lesson learned to budget a good sum more than you're expecting to need."
2. Market Conditions
This year has definitely been a hot one for housing with high prices and low inventory. It's a seller's market, which may make it more challenging for flippers to find the right deals. And even when supply is not a concern, all houses are not candidates for flipping.
Investors should look for homes that are priced below market value that leaves room to fund the needed renovations. It's also important to understand how interest rates are performing.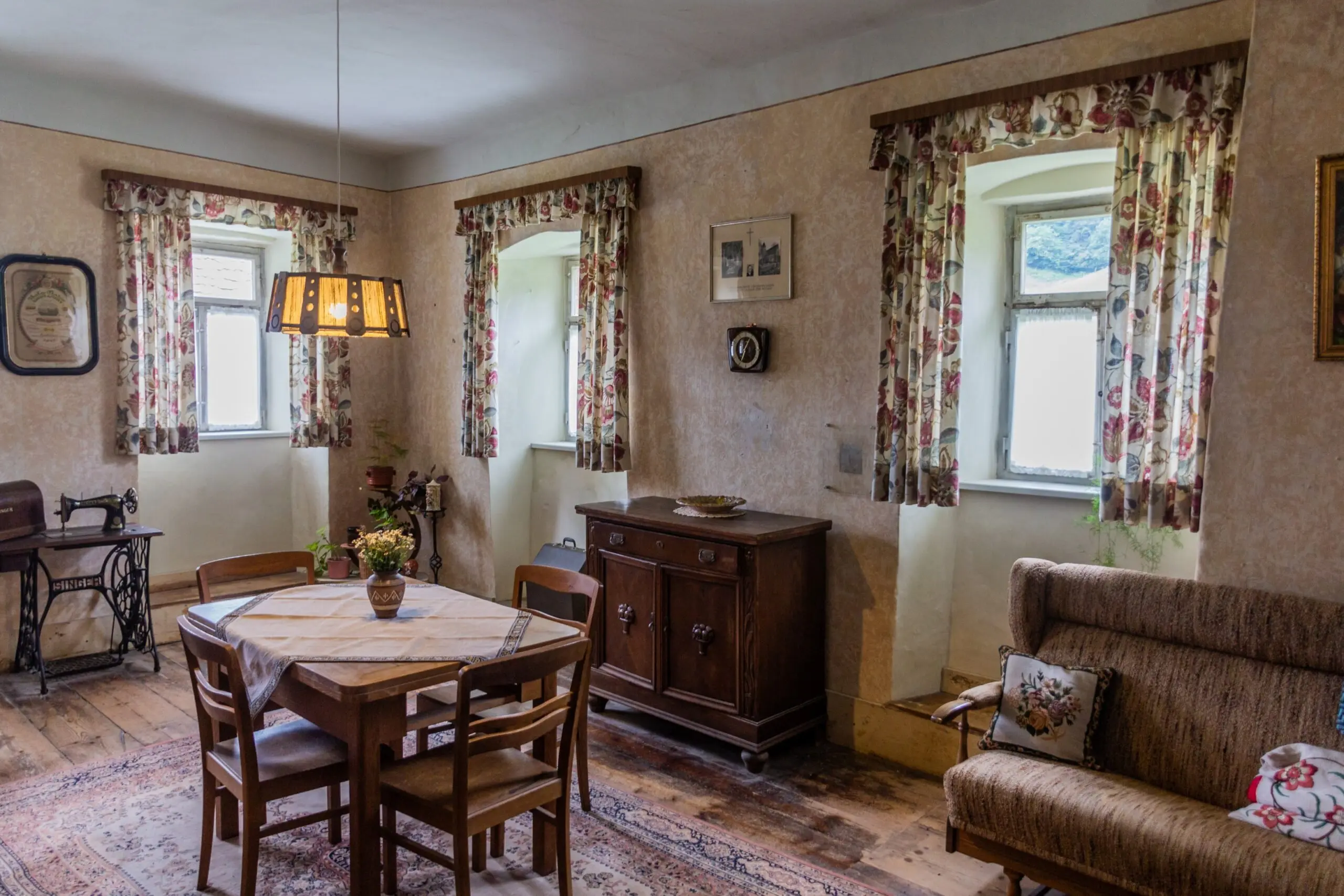 3. The L Word
As we know, real estate is all about location, location, location. It's critical for investors to do their due diligence and research the data to determine the appeal of specific neighborhoods.
Beware of being first. If no other homes have flipped on a street, it might be wise to wait.
"We look at the ARV, which is the after-repair value, and see the spread of where we're acquiring the property," explains experienced investor Richard Bond. He and his partner analyze rehab costs, closing costs, and potential profit. Their goal? $10,000 a month on an annual basis.

The age of the home can also be a big factor in the renovation that will be needed. "There are a lot more unknowns on a 1930s home than a 1980s home. I actually increase my rehab costs on much older homes because they are a lot more unpredictable than newer ones," Bond continues.
4. Time
Finding the right home takes time, whether looking on your own or using an agent. Add in the time needed to renovate a property. Significant rehab can take up to six months, although not all renovations take that long.
Finally, factor in your availability. Flipping as a side hustle means you may not have time to flip multiple houses in one year.
Teams who have achieved success recommend being present on the job. According to Austin investor Frank Novak, "We're very interactive and present with our flips.
Having that relationship off the bat with our tradesmen and our general guys has really helped because they know–that we know–what we're talking about."
5. The Team
Experienced investors often say that their most valuable asset is their contractors. Finding the right pro will keep you going and growing. But how exactly do you find a good one?
Some investors recommend hanging out at your neighborhood Home Depot early in the morning. Others strongly suggest personal recommendations and first-hand experience. Go visit potential contractors on the job and see how they work.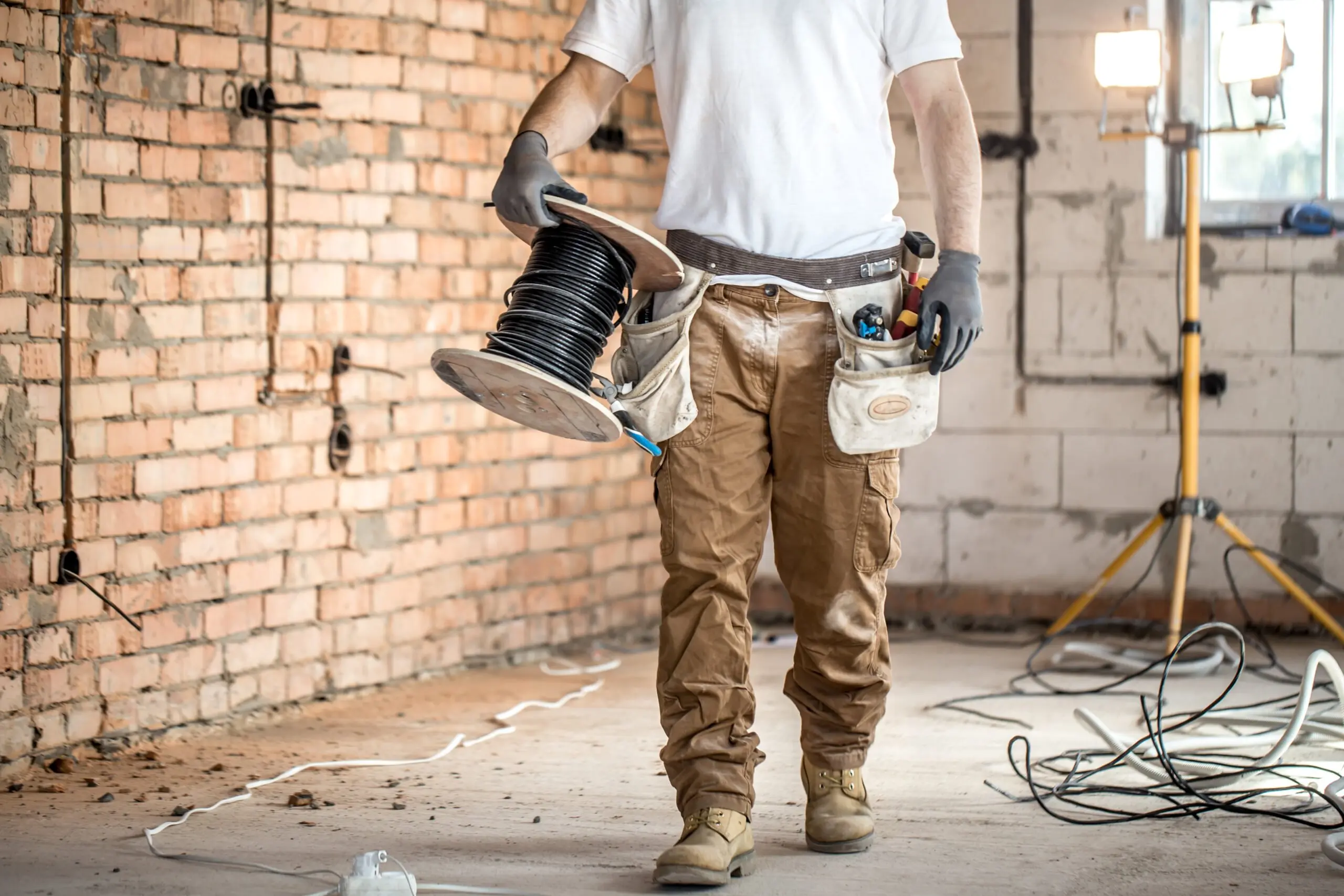 Final Thoughts
So what's the bottom line? How many houses can you realistically flip in one year? It all depends on you.
Amateur investors should aim for a couple of houses. As you gain more experience and have more time to dedicate to the practice, you can shoot for three to seven based on ATTOM data.
The pros do not recommend rushing things. It's best to get a flip under your belt, learn from it and apply those learnings to your next project.
Finding the Right Properties
A lot of new investors are often unsure of how to find the right deals since many of the ripest ones aren't on MLS. Companies like New Western deliver opportunities to motivated individuals.
As the largest source of distressed property in the nation, New Western offers investors a steady supply of value-rich, off-market properties for a variety of investment strategies.
Our agents serve as your boots on the ground, drawing on a wide array of data and unmatched local market knowledge to consistently source the best deals for you.
We also work behind the scenes to eliminate problems, deliver a clear title and provide a fast, seamless process to close. A licensed New Western agent will work hard to deliver the type of residential investment properties that meet your unique goals, plans, and exit strategy. We're here to help every step of the way through closing.
Contact us today and open the door to more—and to improve our communities one neighborhood at a time.