The home-buying market remains competitive while inventory remains low and mortgage rates creep up above 7%. Let's recap the August market data for buyers, sellers, and investors looking to make moves as we settle into fall 2022.
Let's take a look at the stats: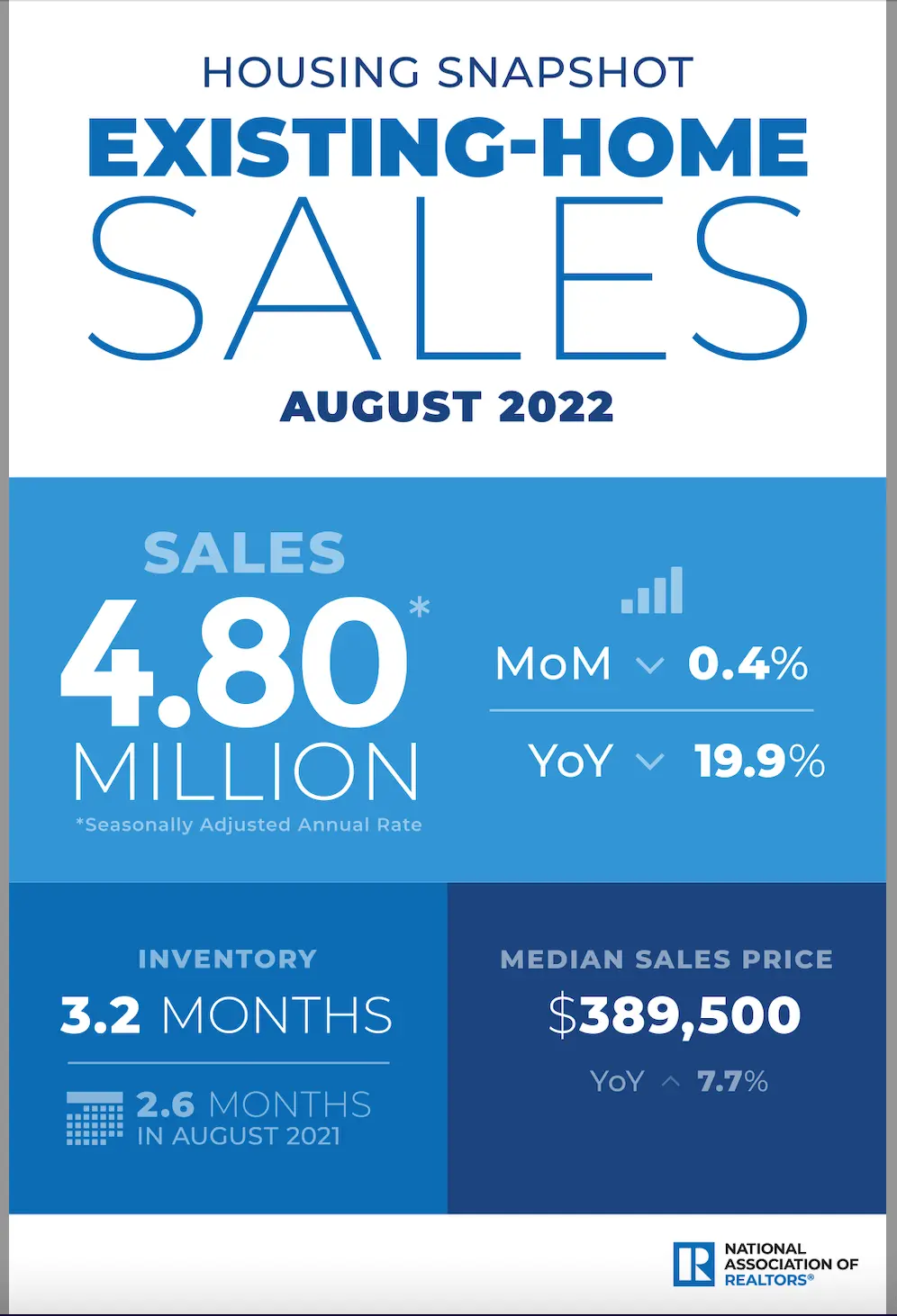 Existing-home sales declined for the seventh straight month. Sales were down 0.4% from July and 19.9% from one year ago. The current median existing-home sales price is $389,500. Although this is $14,300 less than July's high of $403,800, it's still a 7.7% increase from one year ago.
August 2022 marks 126 consecutive months of year-over-year increases —the longest-running streak on record.
After five monthly increases in inventory for unsold existing homes, the inventory decreased from 1.31 million in July to 1.28 million by the end of August. This is the equivalent of 3.2 months at the current monthly sales pace.
Properties typically remained on the market for 16 days in August, up from 14 days in July and down from 17 days in August 2021. The 14 days on market are the fewest since NAR began tracking it in May 2011. Eighty-one percent of homes sold in August 2022 were on the market for less than a month.
"Inventory will remain tight in the coming months and even for the next couple of years,"said NAR Chief Economist Lawrence Yun. "Some homeowners are unwilling to trade up or trade down after locking in historically-low mortgage rates in recent years, increasing the need for more new-home construction to boost supply."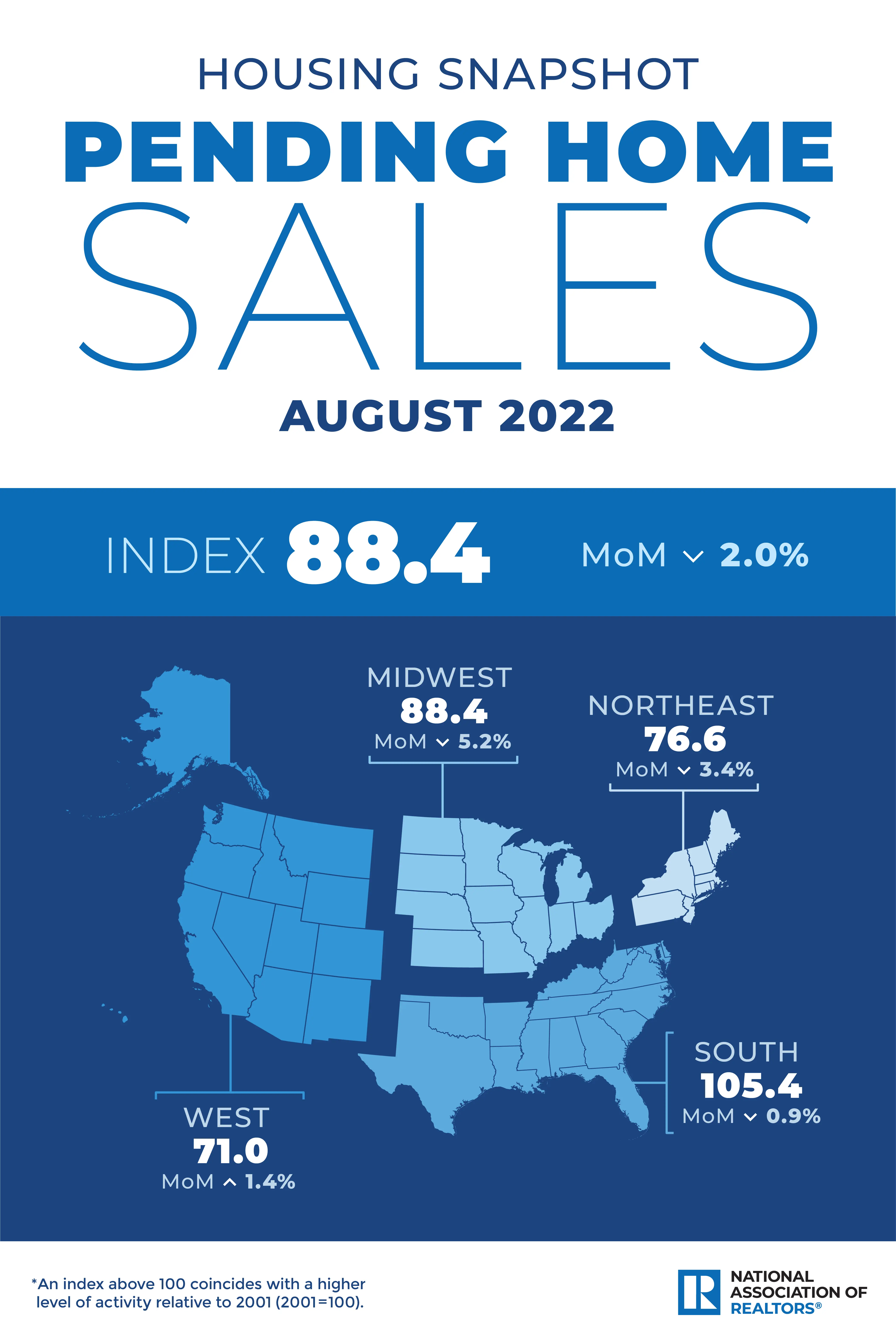 Pending home sales dropped 2.0% from July. August marked the third straight monthly decline. Pending contracts are a good early indicator of sales closings in the coming months and are a great metric that looks ahead instead of looking back at data from previous months. Tracking closings remains a helpful market indicator but closings don't reflect current market conditions because they typically take 1-2 months to complete. Compared to the previous year in August, contract signings were down by double-digit percentages in all four regions.
And the Pending Homes Sales Index fell 2.0% in August to 88.4. An index of 100 is equal to the level of contract activity in 2001. The year-over-year pending transactions decreased by 24.2%.
Three out of four major regions experienced month-over-month decreases in transactions, however, the West saw a modest gain. Year-over-year, all four regions posted double-digit declines.
"The direction of mortgage rates – upward or downward – is the prime mover for home buying, and decade-high rates have deeply cut into contract signings," said NAR Chief Economist Lawrence Yun. "If mortgage rates moderate and the economy continues adding jobs, then home buying should also stabilize."
Who are the current market buyers?
First-time buyers were responsible for 29% of sales in August, consistent with July 2022 and August 2021.
All-cash sales accounted for 24% of transactions in August, the same share as in July, but up from 22% in August 2021.
Individual investors or second-home buyers, who make up many cash sales, purchased 16% of homes in August, up from 14% in July and 15% in August 2021.
Distressed sales5 – foreclosures and short sales – represented approximately 1% of sales in August, essentially unchanged from July 2022 and August 2021.
As for current market Mortgage Rates?
Following the September 21st Fed Announcement, interest rates have continued to rise and the fixed rate on a 30-year mortgage rose above 7% in October, the highest level since November 2008.
According to Freddie Mac, the average commitment rate for a 30-year, conventional, fixed-rate mortgage was 5.22% in August, down from 5.41% in July. The average commitment rate across all of 2021 was 2.96%.
"The unemployment rate dipped back to 3.5%, equal to the pre-pandemic low, and wage growth remains strong with average hourly earnings up 5% over the past year. The household sector is in strong shape, which should help to mitigate the extent of an economic downturn," said Mike Fratantoni, MBA Senior Vice President and Chief Economist. "We expect the Federal Reserve will increase rates by at least another 50 basis points in November and could do more if inflation fails to decelerate."
And Rental Prices …
Rent growth is likely to keep slowing as interest rates continue to rise.
Rent prices hit a record high in August but rent growth continues to slow for the third straight month.
According to Redfin, the national median asking rent was up 11% year-over-year to $2,039. This is the smallest annual increase in a year. On a month-over-month basis, the median asking rent climbed 0.4% in August versus a 0.6% increase in July. This is the slowest growth since December 2021 and down from a 1.6% increase a year earlier.
"Rent growth will likely slow further as the Federal Reserve continues to raise interest rates. Higher interest rates impact the rental market because they put a damper on spending power in the economy as a whole, including renters' budgets," said Redfin Deputy Chief Economist Taylor Marr. "Growth in rents is also likely to be slowed by a boost in rental supply. There are nearly a million rental units under construction that will hit the market in the coming months and years."

New Opportunity. New Western.
There is no time like the present for real estate investors to capitalize on timely opportunities. With an ever-changing market, it's critical to have a pro in your corner who can uncover the right deals to fit your investment strategy.
New Western agents are constantly identifying value-rich opportunities for our clients. Let us help you discover the one that fits your strategy.
Contact us to see if you qualify for access to our exclusive inventory.