The housing market continues a steady march through transition and historic change. The facts are that interest rates are rising and fluctuating, there is still a shortage of housing inventory, rent growth is slowing, and some folks are exiting the market and waiting on the sidelines. But rising mortgage rates and inflation don't tell the whole story for investors. The market is not moving in one direction as a whole and there are opportunities in growth markets that didn't exist before. Due diligence, market research, and analysis is key.
Let's take a look at the stats: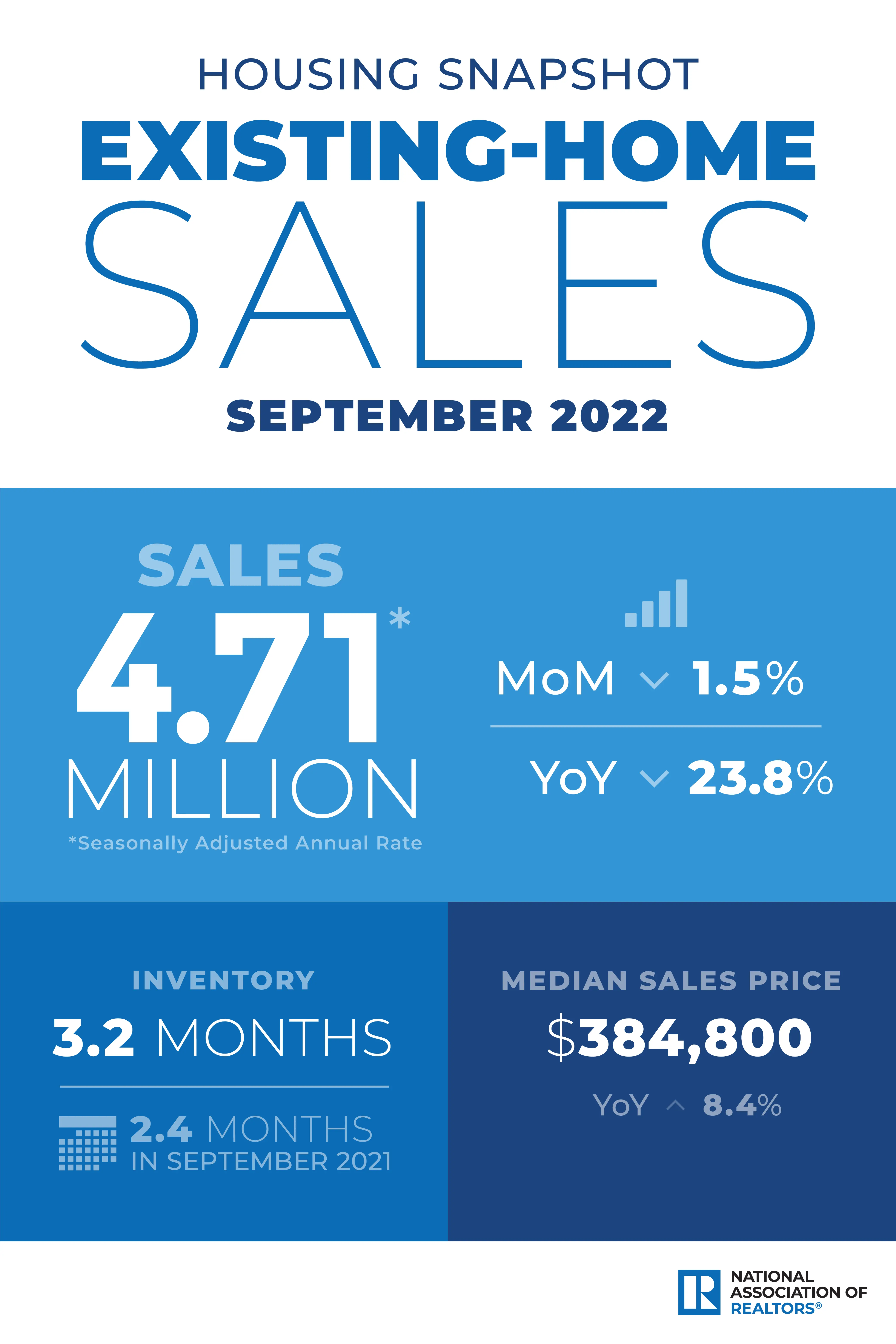 Existing home sales:
Existing-home sales declined for the eighth straight month. Sales were down 1.5% from August and 23.8% from one year ago.
The median existing-home sales price was $384,800 in September. While the median sales price reached a record high of $413,800 in June 2022, September marks the third month in a row that this number has decreased. September's median existing-home sales price of $384,800 still represents an 8.4% increase from September 2021.
September 2022 also marks 127 consecutive months of year-over-year increases —the longest-running streak on record.
Total housing inventory registered at the end of September was 1.25 million units, which was down 2.3% from August and 0.8% from the previous year. Unsold inventory sits at a 3.2-month supply at the current sales pace – unchanged from August and up from 2.4 months in September 2021.
Properties typically remained on the market for 19 days in September, up from 16 days in August and 17 days in September 2021. Seventy percent of homes sold in September 2022 were on the market for less than a month.
"Despite weaker sales, multiple offers are still occurring with more than a quarter of homes selling above list price due to limited inventory," said NAR Chief Economist Lawrence Yun. "The current lack of supply underscores the vast contrast with the previous major market downturn from 2008 to 2010, when inventory levels were four times higher than they are today."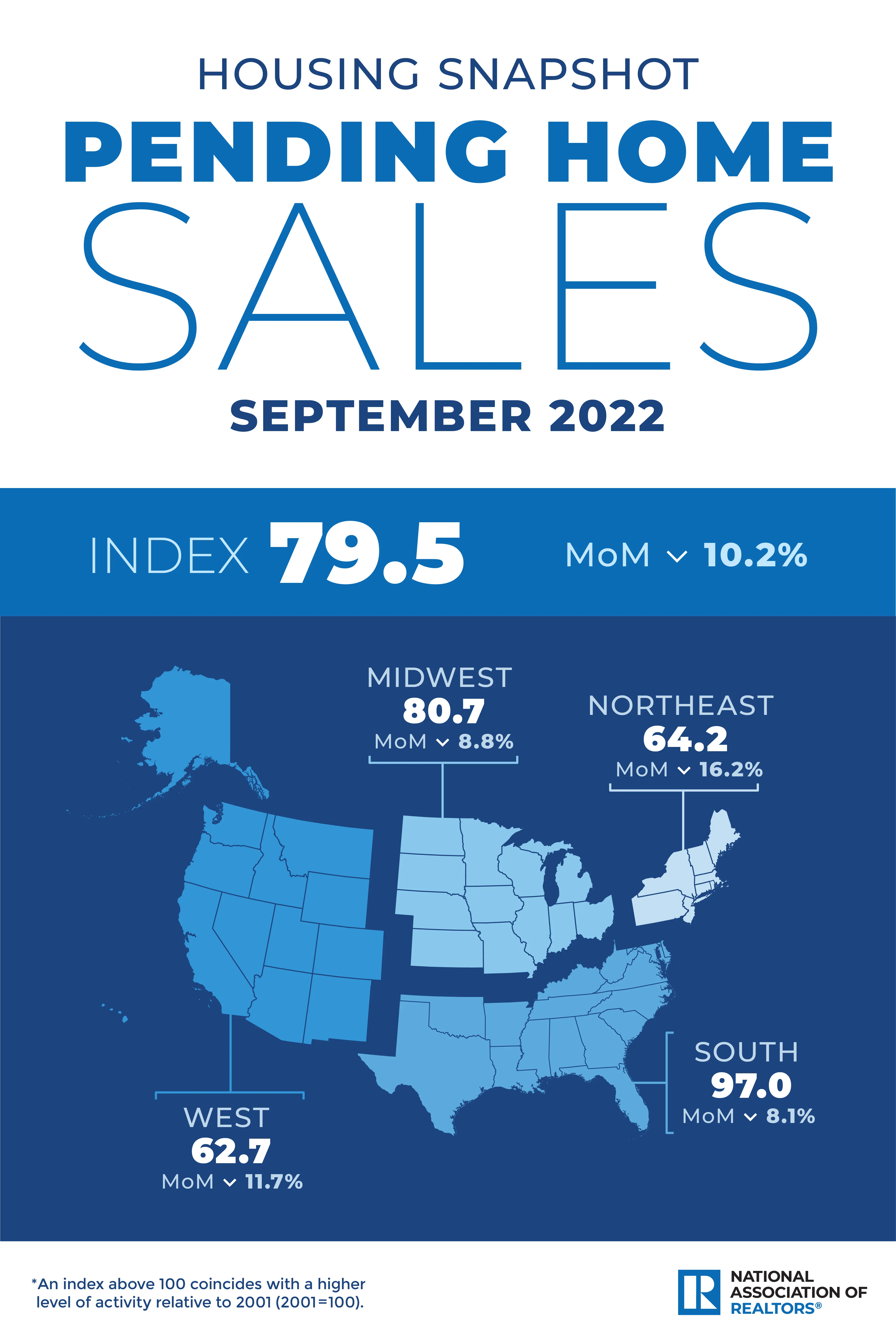 Pending home sales:
Pending home sales dropped for the fourth straight month in September, down 10.2% from August. This was a significant drop when compared to the 2.0% decline in pending sales that occured from July to August.
Pending contracts are a good early indicator of sales closings in the coming months and are a great metric that looks ahead instead of looking back at data from previous months. Tracking closings remains a helpful market indicator but closings don't reflect current market conditions because they typically take 1-2 months to complete.
Compared to the previous year in September, contract signings were down in all four major regions.
And the Pending Homes Sales Index fell 10.2% in September to 79.5. This is compared to an only 2% decline from July to August. An index of 100 is equal to the level of contract activity in 2001. The year-over-year pending transactions decreased by 31.0%.
"The new normal for mortgage rates could be around 7% for a while," Yun added. "On a $300,000 loan, that translates to a typical monthly mortgage payment of nearly $2,000, compared to $1,265 just one year ago – a difference of more than $700 per month. Only when inflation is tamed will mortgage rates retreat and boost home purchasing power for buyers."
Who are the current market buyers?
First-time buyers were responsible for 29% of sales in September, unchanged from August 2022 and slightly higher than 28% from September 2021.
All-cash sales accounted for 22% of transactions in September, down from 24% in August and 23% in September 2021.
Individual investors or second-home buyers, who make up many cash sales, purchased 15% of homes in September, down from 16% in August, but up from 13% in September 2021.
Distressed sales – foreclosures and short sales – represented 2% of sales in September, a marginal increase from 1% in August 2022 and September 2021.
As for current market Mortgage Rates?
The Fed raised interest rates for the sixth time this year, in early November. This was the fourth time in a row that they've raised the target federal funds rate by 0.75%.
And mortgage rates continue to hover just above 7%.
"Mortgage rates remain above 7 percent, which has caused refinance activity to effectively stop and home purchase activity to slow markedly", said Mike Fratantoni, MBA Senior Vice President and Chief Economist. "The combination of elevated mortgage rates and steep home-price growth over the past few years has greatly reduced affordability. The volatility seen in mortgage rates should subside once inflation begins to slow and the peak rate for this hiking cycle comes into view."
And Rental Prices …
Rent prices hit a record high in August 2022, but rent growth continues to slow. September marks the fourth straight month that annual rent growth decelerated. Rents are climbing at half the pace they were six months earlier.
According to Redfin, the national median asking rent was up 9% year-over-year in September to $2002. The median asking rent was $2,039 in August 2022.
"The rental market is coming back down to earth because high rents and economic uncertainty have put an end to the pandemic moving frenzy of 2020 and 2021, when remote work fueled an enormous surge in housing demand that would've otherwise been spread out over the coming years," said Redfin Deputy Chief Economist Taylor Marr. "Rising supply is also causing rent growth to slow. Scores of apartments that have been under construction are now coming on the market, and more homeowners are choosing to become landlords instead of selling in order to hold on to their record-low mortgage rates."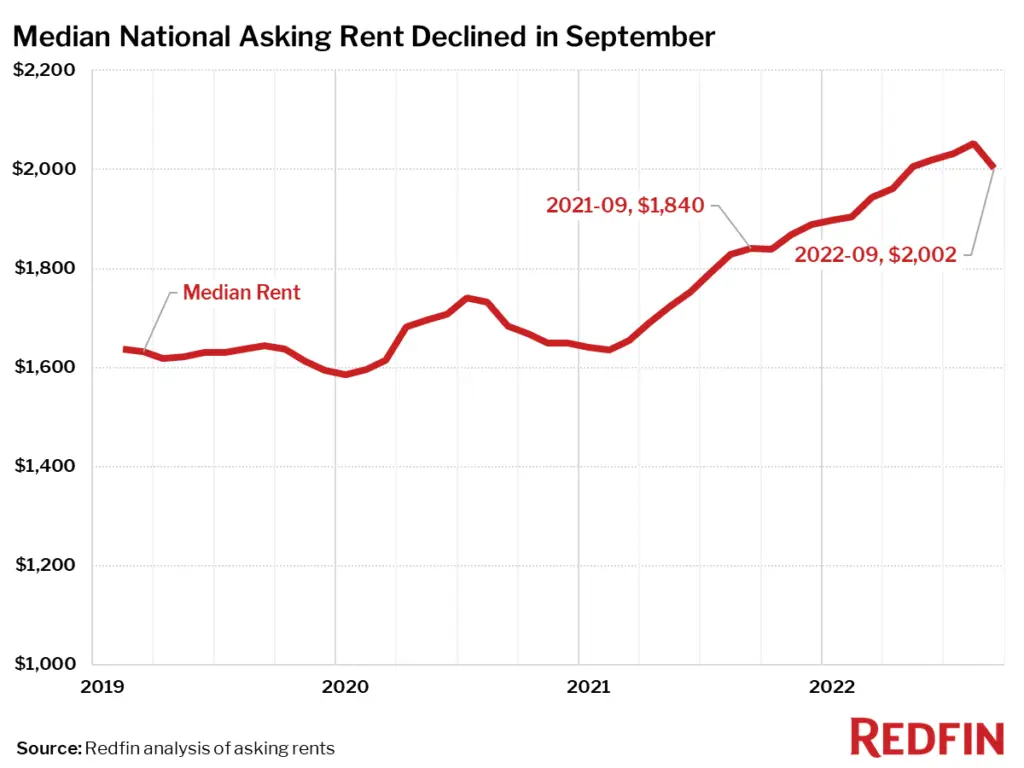 New Opportunity. New Western.
There is no time like the present for real estate investors to capitalize on timely opportunities. With an ever-changing market, it's critical to have a pro in your corner who can uncover the right deals to fit your investment strategy.
New Western agents are constantly identifying value-rich opportunities for our clients. Let us help you discover the one that fits your strategy.
Contact us to see if you qualify for access to our exclusive inventory.