When it comes to adding both value and "livability" to a home, the experts agree it all comes down to two rooms: the bathroom(s), and the kitchen. Get it wrong, and you could be looking at a lot of sparsely-attended open houses. Get it right, however, and you could have a buyer signing on the dotted line sooner than you think. So what does 2023 have in store for home rehabbers and flippers looking to spruce up their kitchens? Let's have a look at the kitchen trends worth trying:
Countertops
Inspired: Quartz / Quartzite Countertops.
Tired: Granite Countertops.
The look and durability of stone is always going to be a winner in a room that sees a fair share of spills. While granite was once a coveted must, however, its visual weight is becoming less of a base and more of an anchor for potential buyers. Driven by the popularity among home renovation stars like Chip and Joanna Gaines, quartz and quartzite are subbing in as the stone-of-the-moment.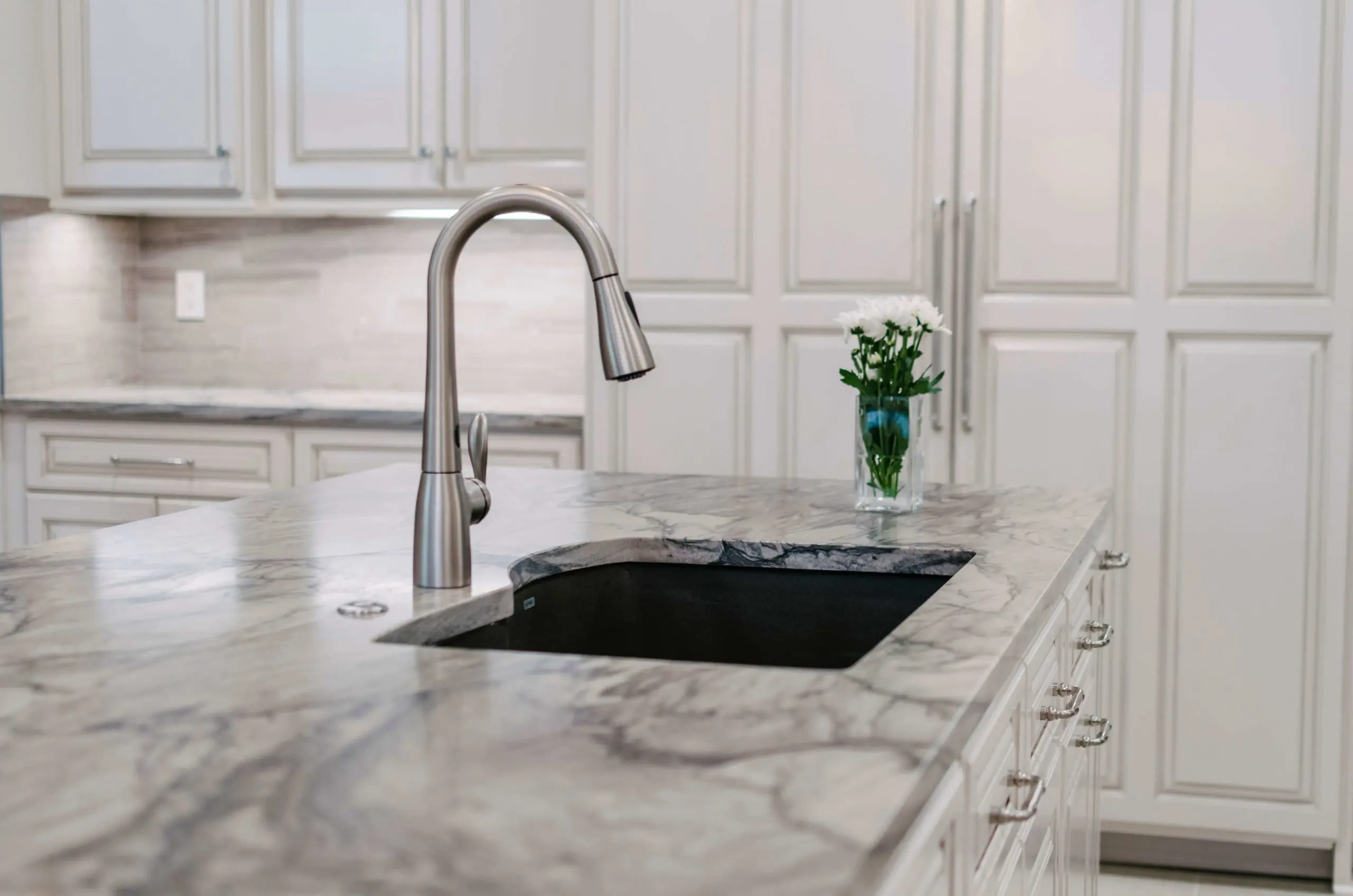 Shelving
Inspired: Pantries and Larders Making a Comeback.
Tired: Open Shelving Everywhere.
Your dry goods need to go somewhere in the kitchen, and that means purpose-built storage. Open shelving had its moment in 2018 and 2019, with thick slabs lining every trendy wall to grace a home magazine.
In 2023, perhaps driven by one too many cans of tomato soup taking an unexpected nosedive, trendsetters are once more turning to enclosed storage spaces to stash their brown sugar and boxes of cereal. Standalone pantry/larder cabinets are popular this year, particularly when fitted with glass-paned or colorful wooden doors.
Tile
Inspired: Unique tiles, Such as Handmade or Moroccan-style Pieces.
Tired: Subway Tile Dominating the Kitchen.
It had a good run, but the polarizing slender-rectangle tile that practically defined backsplashes as a canvas is starting to fall out of favor. Instead, trendy modern kitchens are using the artistic irregularities of handmade tiles and colorful mosaics to bring in organic textures and less sterile hues.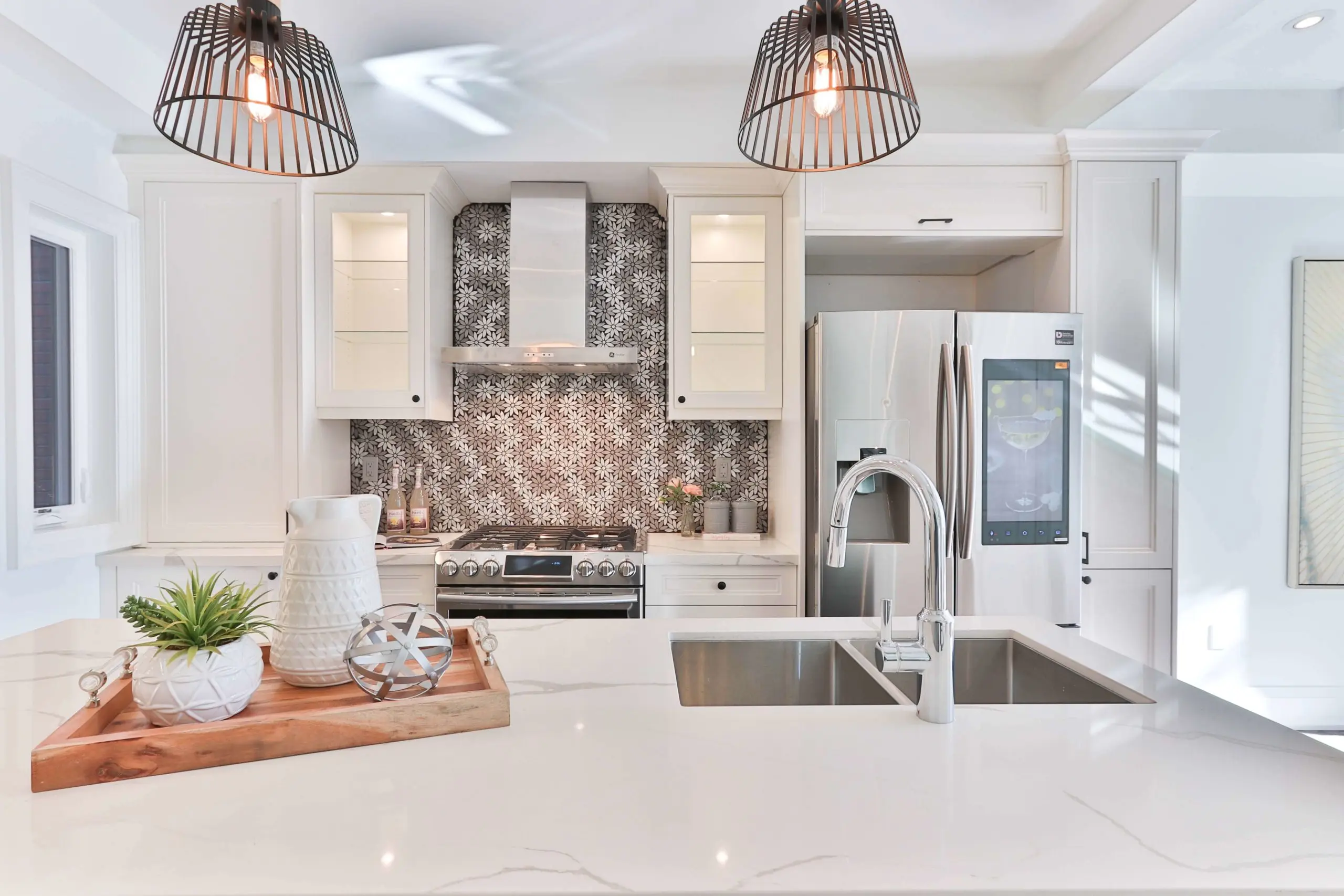 A word to the wise, however: handmade and "DIY" are not interchangeable – stick to renovating your kitchen with pre-made tiles, as inexpertly-applied "personal touches" could end up negatively eclipsing important updates and details.
Color
Inspired: Light and Airy Colors.
Tired: Dark Wood and Stain.
Even if a kitchen lacks soaring ceilings or impressive floor space, dark hues will make it seem more cramped than cozy. An offshoot of the collective bend away from ornate or "Tuscan" style kitchens in 2022, the use of light colors is being used as a decorative surrogate for minimalism.
"In between" hues are hot right now, those that fall somewhere between a "greige" and a bold shade like teal blue or saffron yellow. Think of a happy medium between strict neutrals and assertive pastels and you'll be in the right territory for a modern kitchen paint color that will age well. And while you're at it, just go ahead and leave that cherry stain at the hardware store.
Home Continuity
Inspired: Kitchens in Whole-Home Harmony.
Tired: "Statement" Kitchens.
At the time, unmistakable personal touches like rooster-emblazoned tile in a country kitchen or burgundy wall paint in one of the aforementioned "Tuscan" kitchens likely made a house feel like home. However, as buyers wander through an open house and spot a "sore thumb" design, it can shift their interest right to the next house on their list.
Kitchens and bathrooms should make design sense in a modern house: designs that are made to stand out become a sizeable resale liability in all but the most niche of cases. Instead, bring in the design touches and paint colors that dominate the bedrooms, living rooms, and so on. If the next owner really wants the kitchen to stand out, they can always repaint!
Kitchens, like the rest of the home, will change a great deal from year to year depending on influencers and design trends. Follow these inspired 2023 kitchen trends now, however, and you'll be creating a home that doesn't just welcome interest, but lucrative offers from the impressed buyers. When you're ready to find your next kitchen to flip, New Western can connect you with exclusive, both on and off-market properties that meet your investment goals. Fill out the form to see if you qualify and one of our agents will be in touch.