It's November 2023. What do real estate investors, wholesalers, and real estate agents need to know about the current market?
As of November 2023 inventory is slowly continuing to increase month over month and there is currently 3.6 months of supply of homes for sale. Mortgage rates are taking a turn back towards 7% after touching 8% in October 2023–a factor that greatly impacts investors and homebuyers and sellers. 
The median home sales price continues to rise, regardless of rates and according to the October 2023 data release from NAR the current median price is $391,800.   
And while economic factors in the traditional market are important for investors to track, the traditional home market has opportunities and the outlook for investors in 2024 is positive.
What about the single-family investor market? 
New Western tracks investor activity and these are the markets where New Western saw the biggest increase in activity from October 2023 to November 2023.
1. Indianapolis, Indiana
2. Raleigh, North Carolina
3. Tampa, Florida
4. Kansas City, Missouri
Let's take a look at the stats on the current housing market:
Existing Home Sales
Existing-home sales are down 4.1% from Septemeber to October 2023 and down 14.6% from October 2022. 
The median existing home sales price grew 3.4% from $378,800 in October 2022 to $391,800 in October 2023. 
Inventory of existing homes actually grew 1.8% from September 2023 to October 2023 and there is currently a 3.6 months supply of homes. 
Sixty-six percent of homes sold in October were on the market for less than 30 days. Homes were on the market 23 days in October 2023, up from 21 days in September 2023.
"While circumstances for buyers remain tight, home sellers have done well as prices continue to rise year-over-year, including a new all-time high for the month of October," Yun said. "In fact, a typical homeowner has accumulated more than $100,000 in housing wealth over the past three years."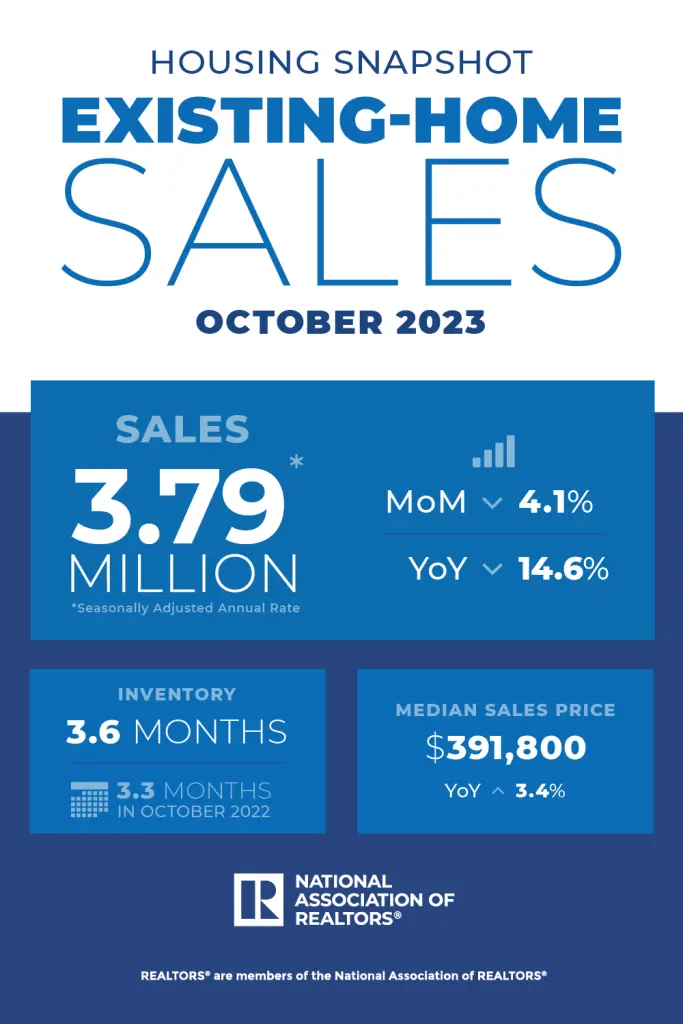 Pending Home Sales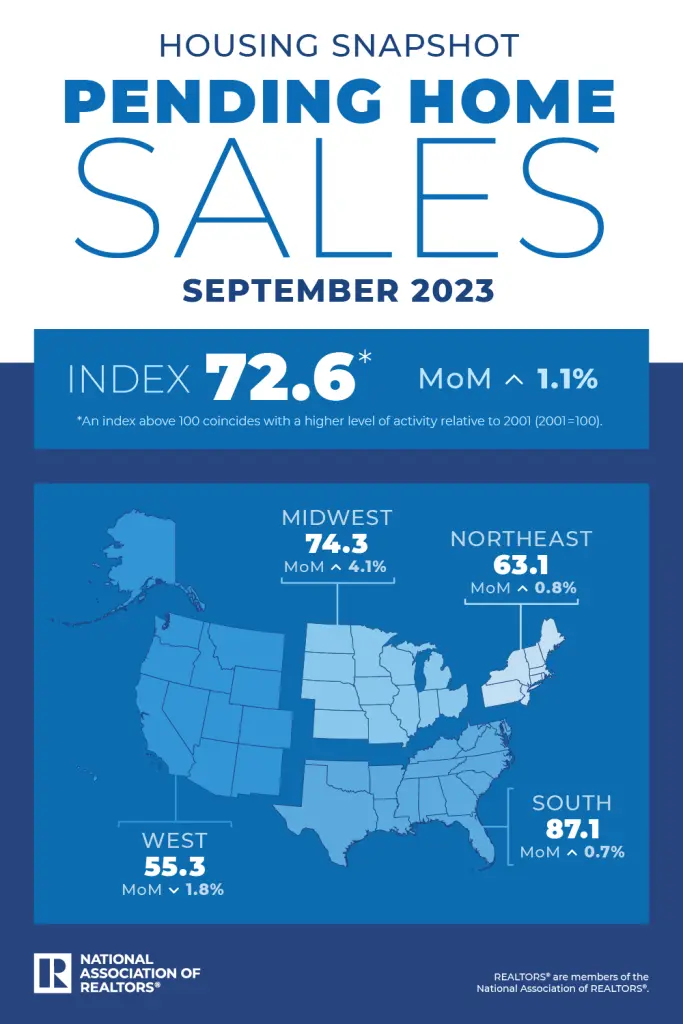 Pending home sales increased in September, up 1.1% from August.
Pending home sales increased 1.1% from August to September following a 7.1 decrease from July to August.  The Northeast, Midwest and South all posted gains in monthly transactions and only the West experienced a loss. 
According to the National Association of Realtors Pending Home Index, transactions fell by 11% year over year.
"Despite the slight gain, pending contracts remain at historically low levels due to the highest mortgage rates in 20 years," said NAR Chief Economist Lawrence Yun.
What about new home sales? 
Single-family construction was steady in October. High mortgage rates depressed demand but more buyers turned to new homes because of a lack of existing inventory.
Housing starts increased 1.9% in October to a seasonally adjusted annual rate of 1.37 million units, according to a report from the U.S. Department of Housing and Urban Development and the U.S. Census Bureau.
There are currently 669,000 single-family homes under construction, down almost 15% from a year ago. 
"Because of homebuilders' ability to create more inventory, new-home sales could be higher this year despite increasing mortgage rates. This underscores the importance of increased inventory in helping to get the overall housing market moving," said NAR Chief Economist Lawrence Yun.
Sales Price 
The median sales price of new houses sold in September 2023 was $418,800.  The average sales price was $503,900.   
For Sale Inventory and Months' Supply 
The seasonally‐adjusted estimate of new houses for sale at the end of September was 435,000.  This represents a supply of 6.9 months at the current sales rate. 

Who are the buyers in the market according to the September data release by NAR?
First-time buyers were responsible for 28% of sales in October, up from 27% in September and identical to October 2022. 
All-cash sales accounted for 29% of transactions in October, unchanged from September but up from 26% in October 2022.
Individual investors or second-home buyers, who make up many cash sales, purchased 15% of homes in October, down from 18% in September and 16% one year ago.
Distressed sales – foreclosures and short sales – represented 2% of sales in October, virtually unchanged from last month and the previous year.
What about those mortgage rates?
Mortgage rates are receding from a recent high of 8% following the Fed's decision to not raise interest rates. The 30-year fixed mortgage rate hit 7.61% last week, approximately 30 basis points lower than 3 weeks ago. Mortgage rates when down ahead of any data updates from the consumer price index or unemployment announcements. 
"Both purchase and refinance applications increased to the highest weekly pace in five weeks but remain at very low levels. Despite the recent downward trend, mortgage rates at current levels are still challenging for many prospective homebuyers and current homeowners," said Joel Kan, MBA's Vice President and Deputy Chief Economist. 
There was a slight uptick in refinance activity in mid November and a decrease in adjustable rate mortgage applications. 
Applications for new home purchases increased 39.7% compared to a year ago. 
"Purchase activity for newly constructed homes continued its upward climb in October with purchase applications up 40 percent compared to a year ago, the ninth consecutive month of annual growth," said Joel Kan, MBA's Vice President and Deputy Chief Economist.
Where are rental rates headed?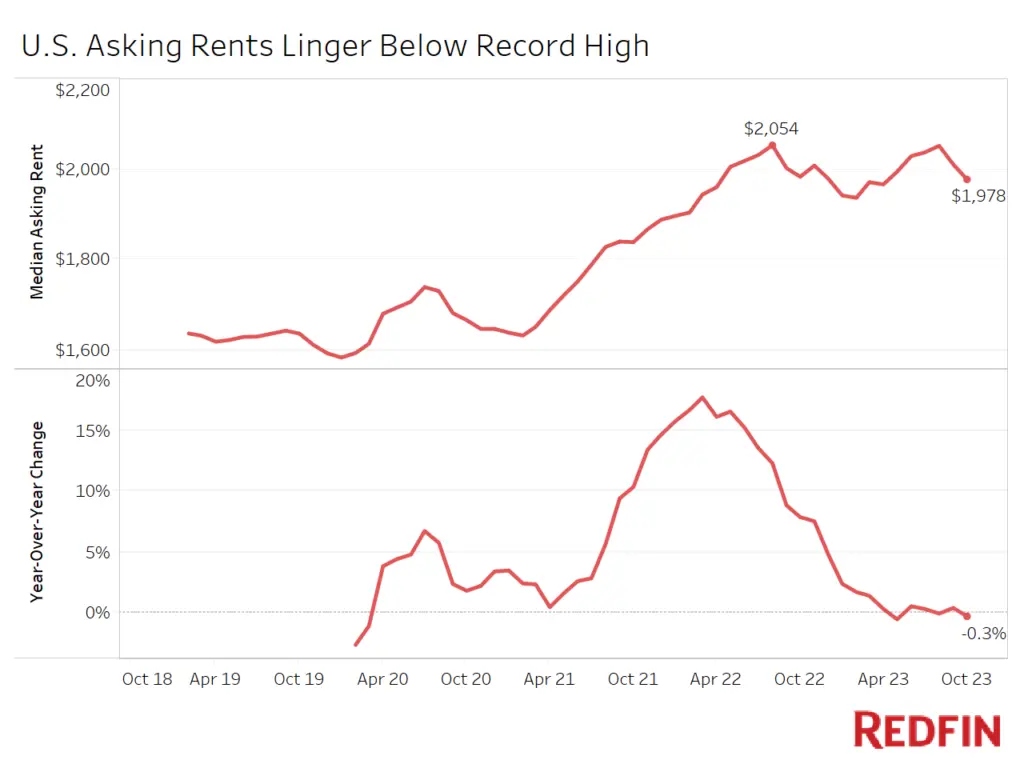 October marks the seventh straight month that rents barely changed year over year and yet are still sitting just under record highs. The U.S. median asking rent is currently $1978 in October, down 1.6% from September which is typical for this time of year. The October rent price is down 3.7% from the $2,054 record high set in August 2022. 
There is a lot of new inventory in the rental market leaving landlords to deal with rising vacancies and with less leverage to raise rents. This is in contrast to what is happening in the for-sale housing market where prices are rising due to a shortage of inventory. 
According to Redfin, rents are climbing fastest in the most affordable region and falling fastest in one of the least affordable, which makes sense at a time when housing affordability is becoming a problem for more American families.