If you're purchasing an investment property built between the 1920s and 1970s, you'll need to know how much asbestos tile removal costs because there's a good chance that asbestos floor tiles were used somewhere in the home.
There are a lot of home improvement projects that you can do yourself, but removing asbestos floor tiles (or anything else with asbestos, for that matter) is not something you should DIY.
Asbestos fibers, once disturbed, can be hazardous because the fibers can enter the body through inhalation, ingestion, and direct contact with the skin.
If you suspect your new investment property may have asbestos floor tiles, you've come to the right place. We'll give you a breakdown of what asbestos tile removal costs, identify asbestos floor tiles, and much more.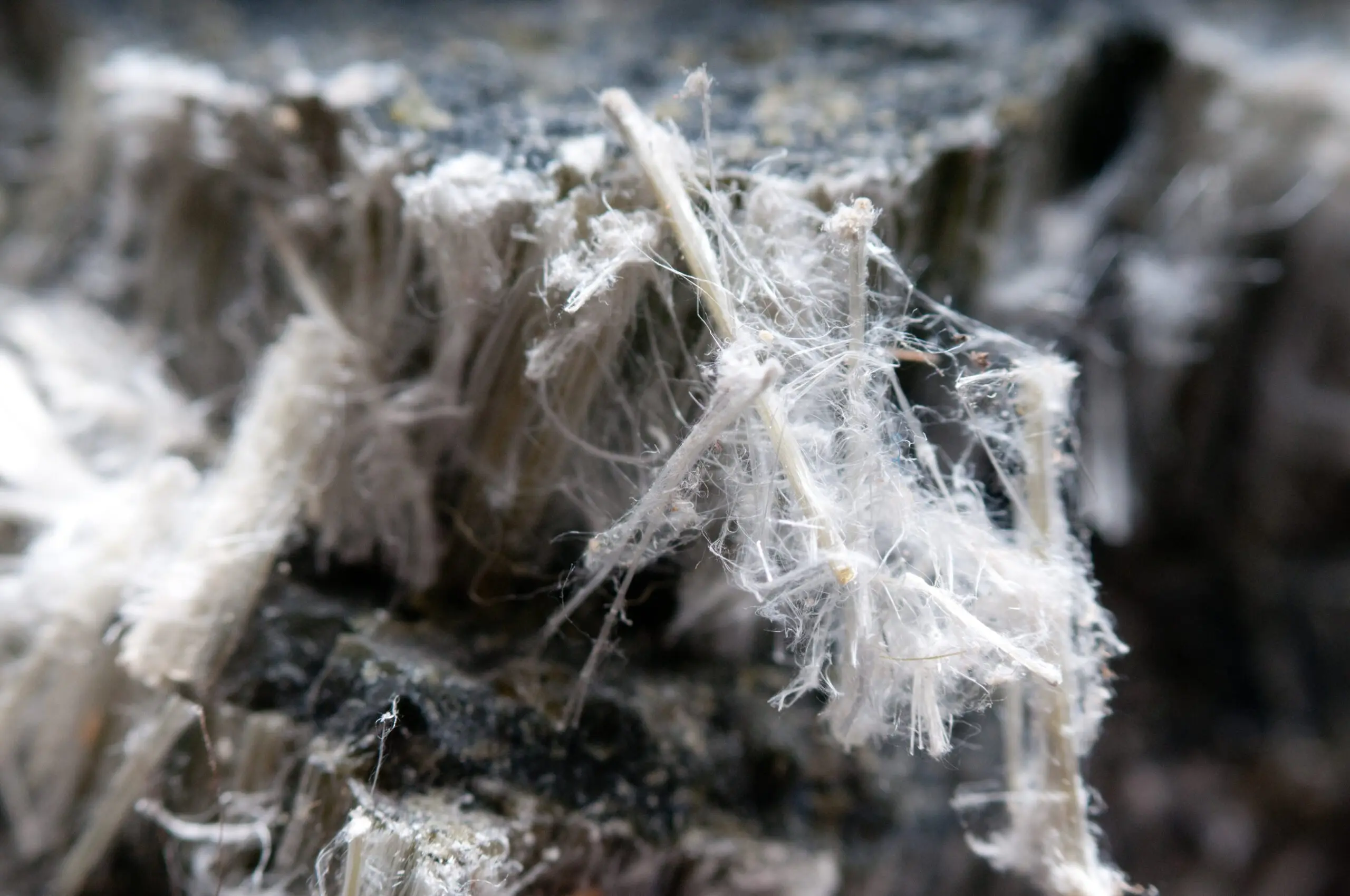 Breaking Down Asbestos Tile Removal Costs
The typical range for asbestos tile removal is between $1,161 – $3,037; however, the national average is $2,080. If the entire house requires asbestos removal, it can cost as much as $30,000 or more! The actual price is going to depend on a few factors.
Testing
If you suspect your investment property may have asbestos somewhere in the home, you'll need to have a test done to confirm your suspicions.
You could purchase an at-home asbestos test kit for as little as $9 at Lowes, which seems like a great deal.
Many homeowners don't realize that there's an additional fee for lab testing, which can be almost as much as having an asbestos professional come out for an inspection.
The national average for an asbestos inspection can cost between $228 and $793 — the national average is $487.
Size of Area
Asbestos is usually found in specific areas rather than the entire house. So with that in mind, asbestos tile removal cost ranges from $5 to $20 per square foot.
Suppose your asbestos inspection reveals there's asbestos elsewhere in the home, like an attic or crawlspace. In that case, it will probably cost more because it's a difficult place to reach and will require more preparation for safe removal.
Pre-Clean and Setup
Before the professionals can remove the asbestos floor tiles, they must take safety measures to protect the homeowner and themselves from any airborne asbestos fibers during the remediation.
Professionals typically charge between $240 to $350 per hour. The total will depend on where the asbestos is located and how much asbestos needs to be removed. You could be charged anywhere from $1,000 to $10,000 or more!
Labor
When you have asbestos removed from your home, you'll pay a contractor fee of $800 to $1,500. This fee will cover obtaining permits, overhead, and disposal of asbestos.
As for actual labor, you'll pay (on average) $75 to $200 to each person on the removal team. Most asbestos removal projects require a two-person crew working on your home for eight hours for the job to be completed — costing you between $1,200 to $3,200.
Equipment and Materials
On average, homeowners will be charged $200 for materials and $250 for equipment. These items are essential to keep the asbestos contained and protect the specialist while they're removing the asbestos.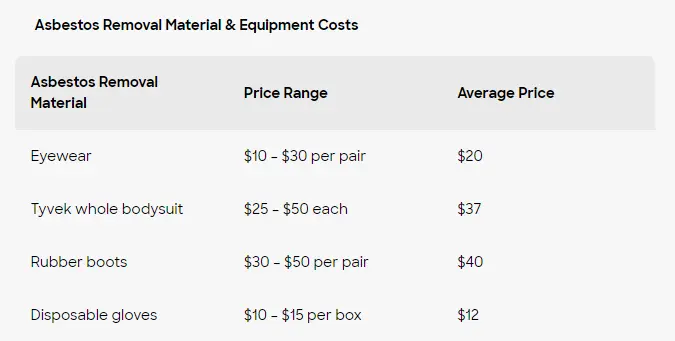 Credit: HomeAdvisor
Disposing of the Asbestos
When the asbestos is ready to be disposed of, it will cost between $10 and $50 per cubic yard and a permitting fee between $50 and $100.
Although disposal laws may vary from state to state, "all asbestos waste generated during the project must be wetted before it is double bagged in 6-millimeter plastic bags and enclosed in a plastic, leak-tight container with a lid and proper labeling.
It can only be disposed of in special landfills designated for asbestos waste.*"
Asbestos Removal FAQ
Q: What Does the Process of Asbestos Tile Removal Look Like?
The process for asbestos removal begins with an asbestos inspection. If there is evidence of asbestos, the certified inspector will recommend how to remedy the problem. They may recommend abatement (complete removal of the asbestos materials) or encapsulation (fully covering and sealing the asbestos material).
Next, you'll hire an asbestos removal specialist to come to your home. They'll give you a contract outlining their project plans and how the asbestos waste will be transported and disposed of.
The contract should also include a breakdown of the federal, state, and local laws they must follow.
The company will mark the hazardous area once the plan has been discussed. They will seal off the area from the rest of the home with plastic sheets.
Household occupants and pets are prohibited from entering the area to keep everyone safe. During this time, the HVAC system will be turned off to prevent the spread of asbestos fibers.
The asbestos team will then remove the asbestos safely by wetting it and sealing it in heavy-duty plastic bags. The team will then clean the worksite with wet mops and rags and use a HEPA vacuum to remove any asbestos dust particles that may still be in the air.
Finally, the asbestos team will run one final test to ensure the space is asbestos-free.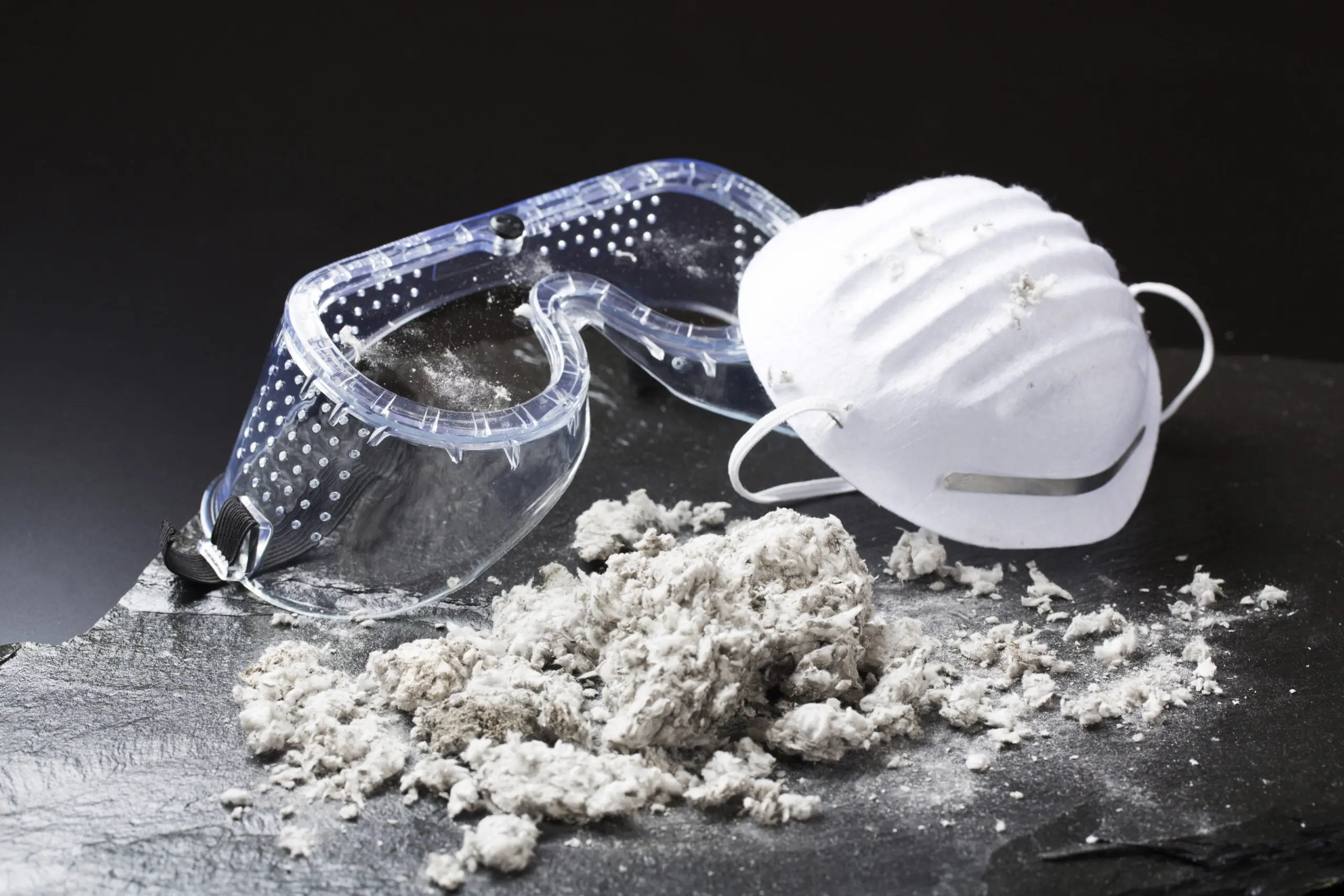 Q: Can I Remove Asbestos Flooring Myself?
You can remove asbestos flooring yourself, but it is not recommended due to how hazardous the material can be if not handled properly.
If you choose to remove the tiles yourself, Minnesota's Department of Health has a comprehensive guide for removing asbestos floor tiles you can follow. They have an asbestos tile removal guide with photographs you can refer to as well.
Q:  What Is the Difference Between Friable and Non-Friable Asbestos?
Friable asbestos will crumble easily, which is regulated because of how easily the material can be damaged and release asbestos fibers into the air. Examples of friable asbestos include:
Textured paints and popcorn ceilings

Thermal insulation for pipes

Joint compounds

Ceiling tiles
Non-friable asbestos will not crumble easily and is much more durable than friable. This type of asbestos isn't as regulated because it's less likely to pose a health hazard since the asbestos fibers aren't easily disturbed. Examples of non-friable asbestos include:
Floor tiles

Thermal boards around fireplaces and wood stoves

Fire bricks

Roofing shingles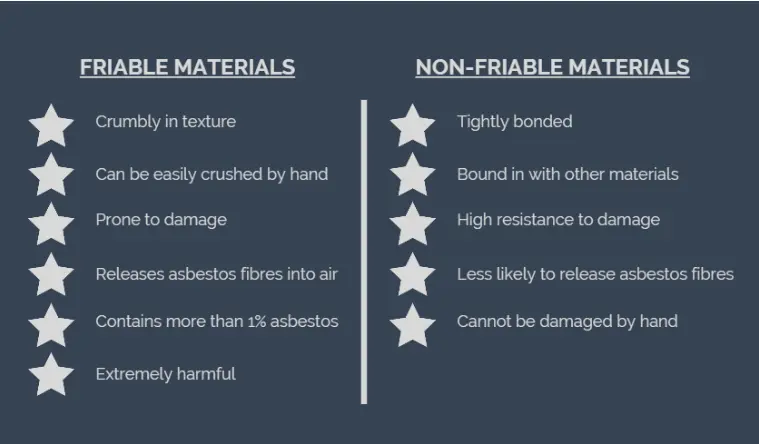 Credit: Vintec Labs
Q: Does Homeowner's Insurance cover Asbestos Removal?
It depends on your homeowner's insurance policy, but most policies don't include coverage for environmental pollutants like asbestos.
Yet, you can find some policies that include asbestos remediation if it's connected to an incident that's a covered loss or peril, like a roof needing to be repaired because a tree fell on it.
In this example, a contractor may need to remove the asbestos to repair the roof. In that case, some of the asbestos removal costs will be included in the total amount for the repair.
It's strongly recommended that you speak to your insurance provider to go over the specific details of your policy.
Q: What Are the Health Risks of Being Exposed to Asbestos?
Asbestos is a carcinogen, and exposure to it can increase the risk of developing lung cancer and mesothelioma — rare cancer that affects the membrane that covers the lungs and chest cavity. It can also cause ovarian and laryngeal (larynx) cancer.
Asbestos Tile Removal Cost Wrap-Up
When you're investing in a property built between the 1920s and 1980s, it would be in your best interest to have an asbestos inspection — you don't want to expose potential tenants to asbestos!
If the property has asbestos floor tiles in good condition, you don't have to have the tiles removed because they are non-friable; but, you can add another layer of protection by putting a new flooring on top of it or sealing it with epoxy.
If the flooring is in bad condition, you should hire a professional asbestos abatement company to remove the tiles instead of trying to do it yourself. This will cost around $2,000, but having the peace of mind in knowing that the property is safe for occupancy is worth it.
The New Western blog is a great place to find answers to all your questions about real estate investing. We cover topics like asbestos tile removal costs, staging an empty house, how to buy a house with tenants, and so much more!