The housing market continues to adjust, and with 2023 just weeks away, more change and shift should be expected, as well as opportunity. The data from the last three months has revealed a steady march towards a cooling market. There is still a shortage of housing inventory, rent growth is slowing, and buyers have left the market and sellers have continued to delist their homes. The biggest change in the retail real estate market in November compared to October? Rates went up above 7% and then retreated to just above 6% within a week. If we continue to look at the pandemic years as outliers then the market is doing quite well as year-over-year upticks in median home values, sales prices and rental prices continue to rise.
The headline for investors is that traditional buyers are still waiting, sellers have delisted properties out of fear but are still motivated to sell, and private money lenders are looking to put their money to work and not let their cash sit in the bank. Opportunity is out there. Go find it.
Let's take a look at the stats: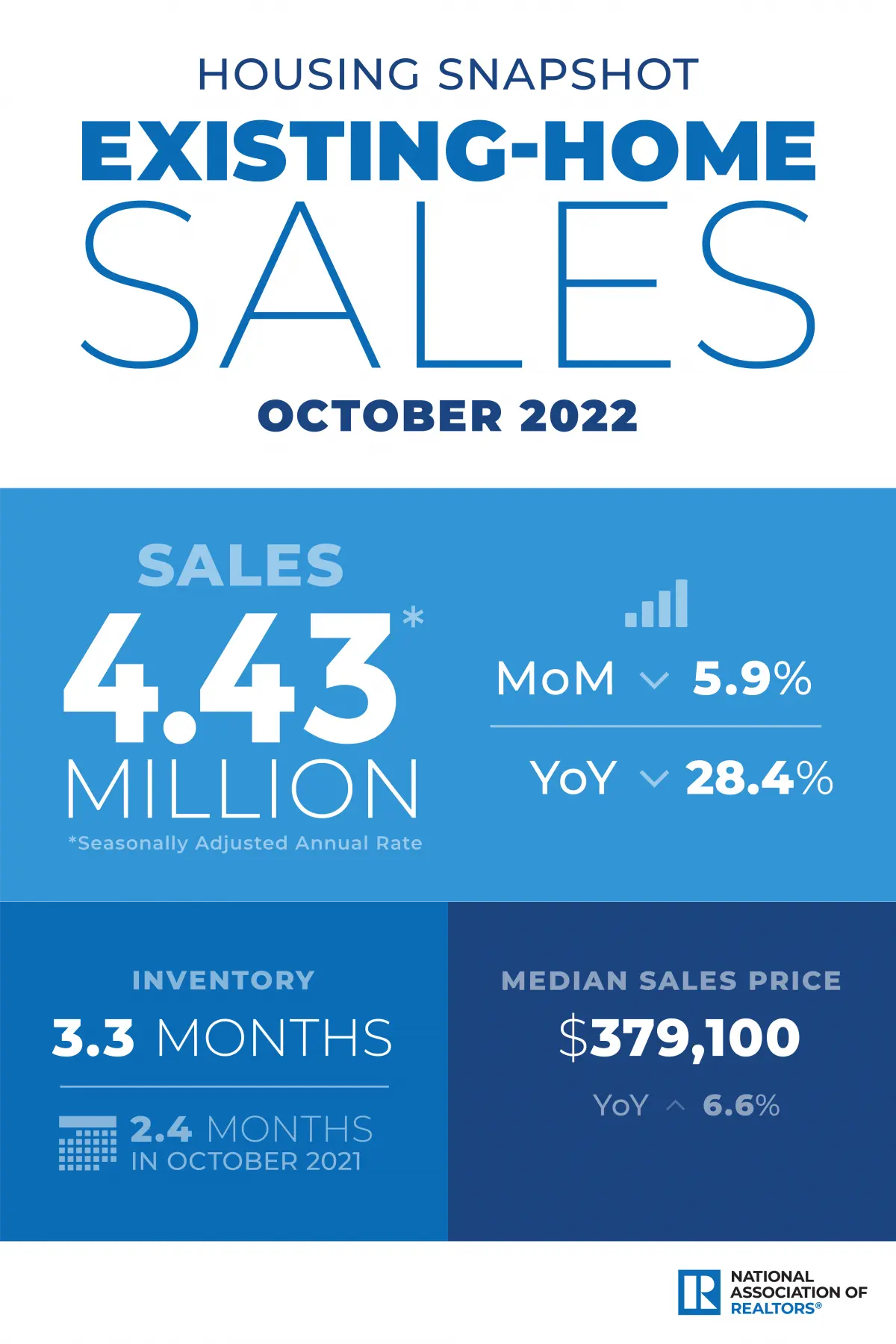 Existing home sales:
Existing-home sales declined for the ninth straight month. Sales were down 5.9% from September and 28.4% from one year ago.
The median existing-home sales price was $379,100 in October, compared to $384,800 in September. While the median sales price reached a record high of $413,800 in June 2022, October marks the fourth month in a row that this number has decreased. October's median existing-home sales price of $379,100 still represents a gain of 6.6% from October 2021 when the median sales price was $355,700.
October 2022 also marks 128 consecutive months of year-over-year increases — still the longest-running streak on record.
Total housing inventory registered at the end of October was 1.22 million units, which was down 0.8% from both September and one year ago (1.23 million). Unsold inventory sits at a 3.3-month supply at the current sales pace – up from 3.1 months in September and 2.4 months in October 2021.
Properties typically remained on the market for 21 days in October, up from 19 days in September and 18 days in October 2021. Sixty-four percent of homes sold in October 2022 were on the market for less than a month.
"Inventory levels are still tight, which is why some homes for sale are still receiving multiple offers," said NAR Chief Economist Lawrence Yun "In October, 24% of homes received over the asking price. Conversely, homes sitting on the market for more than 120 days saw prices reduced by an average of 15.8%."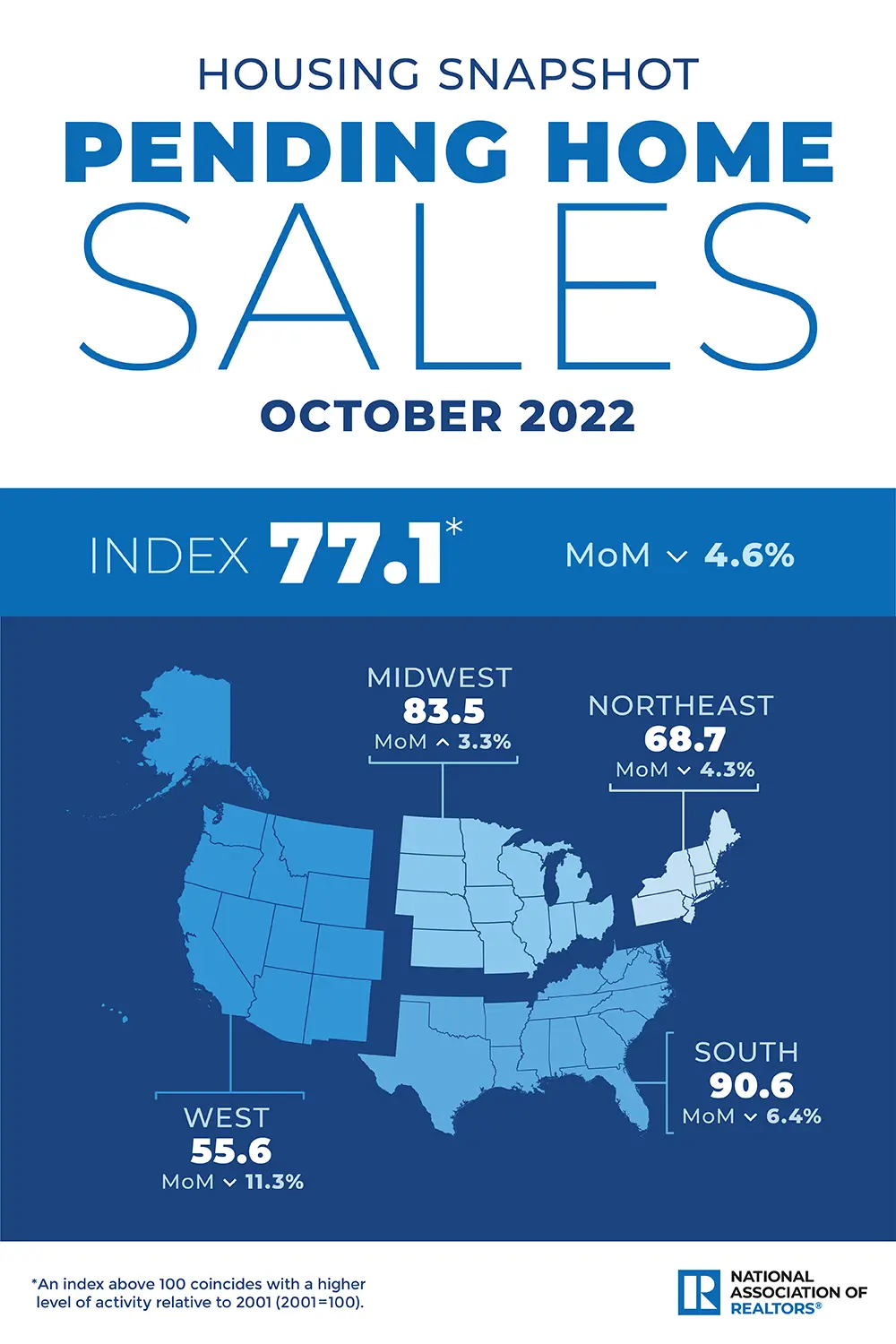 Pending home sales:
Pending home sales dropped for the fifth straight month in October, down 4.6% from September. This was a less significant drop when compared to the 10.2% decline in pending sales that occured from August to September.
Pending contracts are a good early indicator of sales closings in the coming months and are a great metric that looks ahead instead of looking back at data from previous months. Tracking closings remains a helpful market indicator but closings don't reflect current market conditions because they typically take 1-2 months to complete.
Compared to the previous year in October, contract signings were down in all four major regions. But month-over-month, contract signings fell in three major U.S. regions, with the Midwest registering an increase.
And the Pending Homes Sales Index fell 4.6% in October to 77.1. This is compared to an index of 79.5 in September. An index of 100 is equal to the level of contract activity in 2001. The year-over-year pending transactions decreased by 37% in October, compared to 31.0% in September.
"October was a difficult month for home buyers as they faced 20-year-high mortgage rates," said NAR Chief Economist Lawrence Yun."The upcoming months should see a return of buyers, as mortgage rates appear to have already peaked and have been coming down since mid-November."
Who are the current market buyers?
First-time buyers were responsible for 28% of sales in October, down from 29% in both September 2022 and October 2021.
All-cash sales accounted for 26% of transactions in October, up from 22% in September and 24% in October 2021.
Individual investors or second-home buyers, who make up many cash sales, purchased 16% of homes in October, up from 15% in September, but down from 17% in October 2021.
Distressed sales – foreclosures and short sales – represented 1% of sales in October, down from 2% in September and identical to October 2021.
As for current market Mortgage Rates?
Mortgage rates have been in a bit of a holding pattern since launching above 7% in early November. Following the November 10th Consumer Price Index announcement, the average 30-year fixed rate fell by a record amount and took rates from the low 7s to the mid 6's.
"The economy here and abroad is weakening, which should lead to slower inflation and allow the Fed to slow the pace of rate hikes", said Joel Kan, Mortgage Bankers of America's Vice President and Deputy Chief Economist. "Purchase activity increased slightly after adjusting for the Thanksgiving holiday, but the decline in rates was still not enough to bring back refinance activity. Refinance applications fell another 13 percent, and the refinance share of applications was at 26 percent. Both measures were at their lowest levels since 2000."
And Rental Prices …
Rent prices hit a record high in August 2022, but rent growth continues to slow. October marks the fifth straight month that annual rent growth decelerated, a 0.9% month-over-month decline.
According to Redfin, the national median asking rent was up 7.8% year-over-year in October to $1983. The median asking rent was $2002 in September 2022.
October marked the second-straight month of single-digit rent growth following roughly a year of double-digit gains.
"Demand for rentals is slowing because economic uncertainty is prompting many renters to stay put, and persistent inflation is shrinking renter budgets. That's causing rent growth to cool," said Redfin Deputy Chief Economist Taylor Marr. "There are signs that inflation is starting to ease, but it will likely be a while before renters see meaningful relief given that rents are still up more than wages."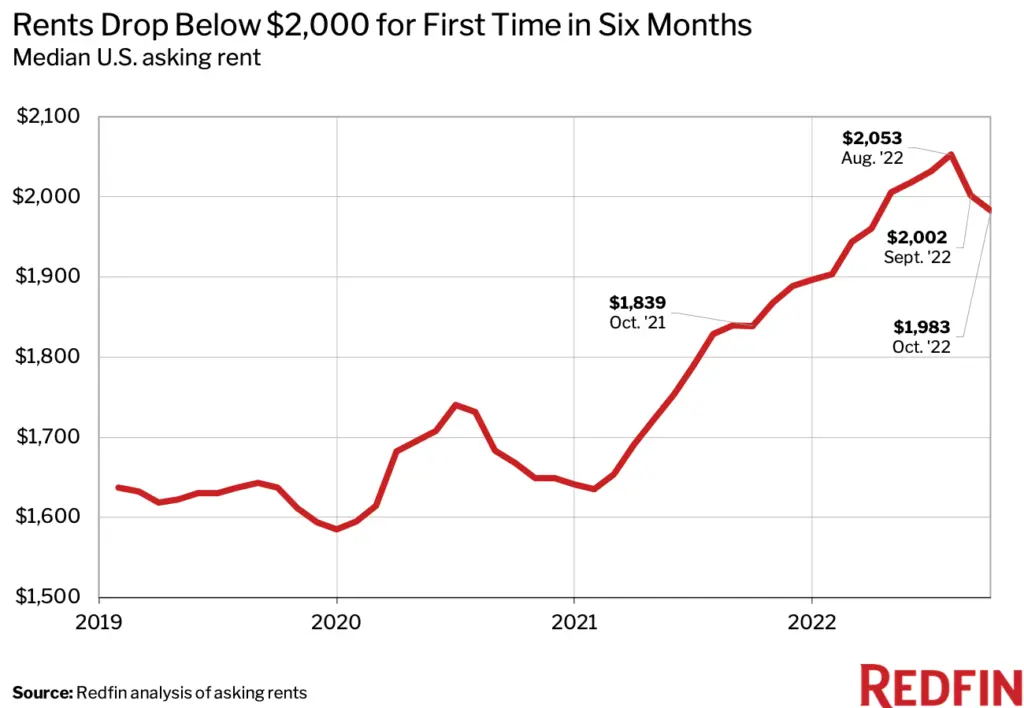 New Opportunity. New Western.
There is no time like the present for real estate investors to capitalize on timely opportunities. With an ever-changing market, it's critical to have a pro in your corner who can uncover the right deals to fit your investment strategy.
New Western agents are constantly identifying value-rich opportunities for our clients. Let us help you discover the one that fits your strategy.
Contact us to see if you qualify for access to our exclusive inventory.